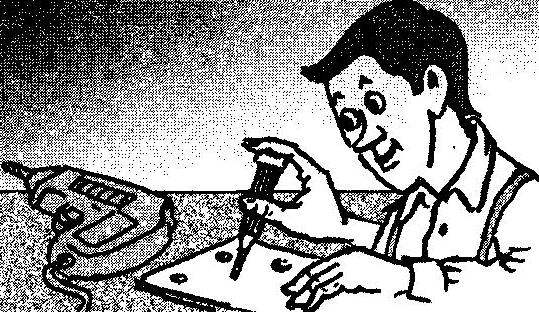 It is sometimes necessary to drill small holes in tight spaces, and dimensions of a drill to make it not allow. Rescued would offer a mini-drill, made on the basis collet pencil. This simple device will give you the opportunity to run drills with a diameter of 2.5 mm and will become an indispensable assistant for those craftsmen, who are fond of fashion jewelry and fine Handicrafts made of wood and plastic. I think that for modelers it will not be superfluous.
To make mini hand drill will not be difficult. As the Express option, you can just fasten the drill bit in the collet pencil type "Kimek" instead of the stylus. However, in this case to use the tool is not very convenient: the size of even a drill bit large. Therefore, the design should make some changes.
Hacksaw sawed a pencil in the middle, Unscrew the burner Assembly and pull the metal rod to 7 mm. reinstall the burner Assembly in place: our impromptu-drill has become much more compact.

The manufacture of the body and "bullet" mini-drill from a collet pencil

Installation rotating the stop (disassembling the automatic ball-point pen;—Assembly and installation of focus):
1 —body automatic ball pen; 2—switch; 3—top cap; 4—clamping strip; 5—removable button; 6—cylinder-bearing; 7—a mini-drill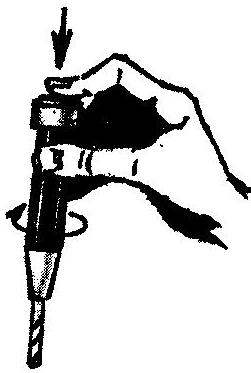 Mini drill work
However, after prolonged use it will RUB the stick on her finger. Therefore, it is necessary to provide the upper end of a mini-drill some rotating element of the example of professional screwdrivers watchmakers. The workpiece for the manufacture of such a device can be borrowed from the automatic ball point pen where the top has a push button.
Production technology following. Inside the button is usually located switch is a hollow cylindrical piece with prongs on the end. From this detail we cut a cylinder with a length of 3 mm, put it on the axis of the future stops, and its top is slightly melted with a hot nail or soldering iron. Thanks to this cylinder becomes the bearing does not slide off the shaft easily rotates and around it. Now fasten a makeshift focusing on a mini-drill: smear glue cylinder of a bearing installed in a hole in the top end.
When changing drill bits you need to Unscrew the collet, press on the metal rod to pry open the petals, remove the drill, insert other again and screw the collet in the drill.
So STAROVOITOVA, Mozyr, Belarus R.
Recommend to read
COLLET-UNIVERSAL
Clutch pencil, calculated on a fat pencil, can find unexpected applications. For example, help in cases when a small screw you need to tighten in tight spaces; turn into a ballpoint pen,...
LIGHT THE TINDER
Saw a tree in the woods tinder fungus — big, beautiful, bizarre. The bottom had white and porous, the top is dark brown with yellow and reddish stripes on the edge. Sorry to leave such a...