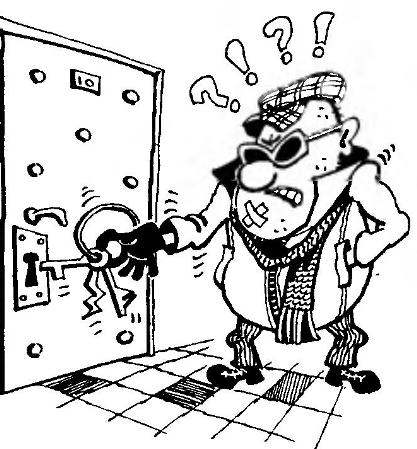 To protect your home from professional thieves and robbers — the task is technically complex and expensive. And the solution to this problem should be dealt with by professionals. Typically, experts recommend the installation of steel doors of various structures, castles high secrecy, security alarm and much more. But we should not underestimate the entrepreneurial craftsmen, who sometimes create such a protective device in front of which is powerless even professionals of the criminal world.
So, the pensioner V., leaving summer at the cottage, the front door in his hallway hung a mirror film. Once the trap was set — the robbers, opening with the master key to his apartment, saw in the dim hallway, swaying his own reflection. Nerves the burglar could not resist, and they fled.
Castle on the castle…
This castle-snag. On the door — the usual rotary handle with pad at the bottom of which is of a very simple lock. However, if you insert the key and open the lock, door handle with plate can be rotated and the lining will be found hiding underneath the main castle — as a rule, quite complex, better security.