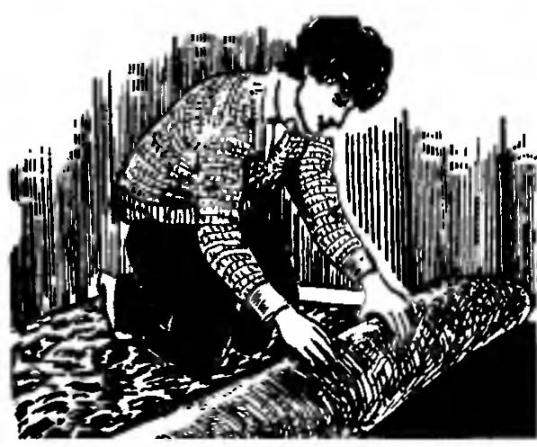 In the design of modern homes more common new materials, and among them especially popular along with traditional parquet floors uses carpet. And primarily because it is available to perform work on their own — if you equip a new apartment or upgrading old ones. In fact, any shabby floor instantly becomes unrecognizable — it is sufficient to deploy the roll of carpet.
All you'll need that to cut the edges along the baseboards (Fig.1); to accomplish this best using a shoemaker's knife-a joint or common in the sale of imported cutter with multi-oblamyvanija (instead of sharpening) the blade.
It is not always possible as a single coil to cover the entire floor in the room or hallway, however, to increase the cloth of the carpet is not particularly difficult. As the main part ' of the coating to the floor is not glued, and additional desirable to attach without attachment to the floor. This can be done in the following way. Put a small overlap of the mating parts of the carpet and on a metal ruler carefully cut through both layers (Fig.2). Carefully remove the cut strip — cut get a neat joint. Careful not to move it, Unscrew both ends and put the newspaper by pinning them to the floor with adhesive tape. Under the future site of the junction of stow on the newspaper strip of thick cloth (or leatherette), also secure it with adhesive tape (Fig.Z), and carefully spread a thin layer of mastic adhesive suitable for synthetic materials with a metal or rubber spatula (Fig.4). Now return to the place of worn on the edges, restoring the resulting joint, and roll it (Fig.5) with a rolling pin or just with a bottle.