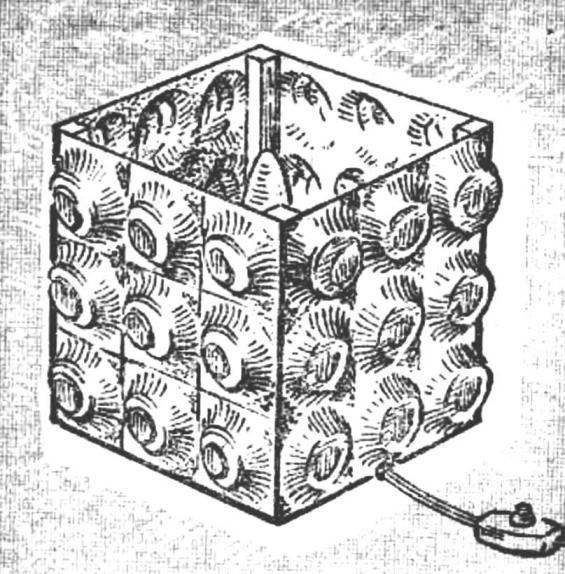 Perhaps the desire to dress up the light source comes from the primitive worship of the miracle of fire. Even the torch could just be stuck in a split stick, and you can revive the thread and patterns of vertical Board designed for this, and a primitive lamp not only gave light, but decorated home. Today, perhaps no one kind of industrial products for everyday life has such a diversity, such as lamps: chandeliers, table lamps, floor lamps and wall sconces, lamp shades, lampshades, diffusers of all kinds, lamps, different from each other at a common decision, form, material, colour. But to satisfy our demand is impossible — so the effect here individual taste or particular living conditions: purpose, place, environment furniture, existing light sources.
Meanwhile, there is nothing more available for the independent production and fertile for creativity than lamps. Because major elements of the cartridge and the switch is always available. Everything else you can do with your hands, even if there are no special skills. Our reader from Murmansk A. Polovnikova has created a whole range of interesting lamps, using only available materials, however, in combination with a good artistic taste.
To begin, we offer some of the simplest designs homemade table lamps and chandeliers (on the pages of magazines "Earmaster", "System D" and "Homemaker").
DO NOT YOU KNOW? Interior light!
Yes, the most common and the ubiquitous visual "mouth" ball of white or patterned glass. But look, how unexpected and witty he applied: not on the ceiling or wall and as a table lamp. In each option looks like for this plan.
The first and most simple design — light is designed for the small bowl: these are often installed in bathrooms or hung in a hallway. Usually the settlers immediately remove them, replacing with more interesting, and the ball is somewhere in the closet or in the attic. Think about
it. To become the light, you will need one free evening, and in the presence of the necessary elements will be enough and hours.