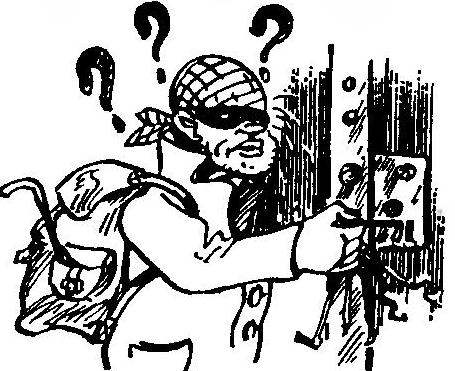 This lock is good for garage doors gate or even garage even from the inside, at least on the outside. It is durable, as massive, and has no arch, where the attacker can insert a crowbar (against whom, as we know, no reception). The principle of operation is similar to that already described structure ("modelist-Konstruktor" No. 8'98), but executed differently.
Is the castle of hull, pin, latch, two pins, screws and key.
The housing is screwed the threaded hole M14 on protruding from the gate (vorotiny) in the right place the end of the bolt, which on the other hand welded to the area, so as not to rotate.
For locking of the lock it is necessary to turn the retainer to align its groove with a hole for a pin, then skip the pin through the eyelet lock vorotiny and paste it into the housing bore until it stops. Then rotate the lock counter-clockwise 90° through hole with a diameter of 3 mm in the disk lock key with a screwdriver to withdraw the pins from the "open" position, alternately turning (turning) them all the way.