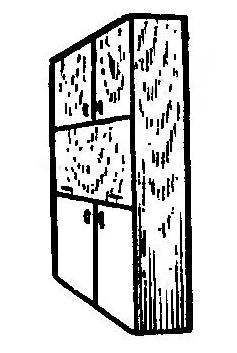 Whatever your urban apartment — prestigious or ordinary, large or small, comfortable or uncomfortable, to allocate space for a home workshop is extremely difficult. However, with a strong desire and sufficient carpentry skills master-samudayik can equip themselves quite comfortable workplace that is easy transformirovalsya in a flat Cabinet on a floor area of only 0.36 m2.
This Cabinet is better to make from floor to ceiling and fix between them by means of four screw jacks; no need to drill concrete wall, drive them to the dowels and to fix a design on the wall with screws. Besides high wardrobe at the same occupied area has a maximum useful volume.
Design workshop-transformer is like an ordinary Secretary with a flip-top. To make it, you will need drevesnostruzhechnoj plates in the thickness 16-20 mm (all dimensions in the drawings as applied to chipboard 20 mm thick), a bit of plywood and hardboard.
Manufacturer secretaire-workshop begins with side panels (width about 300 mm, and the length should be 15 mm less than the distance from floor to ceiling), shelves and cross-beams of particle Board.