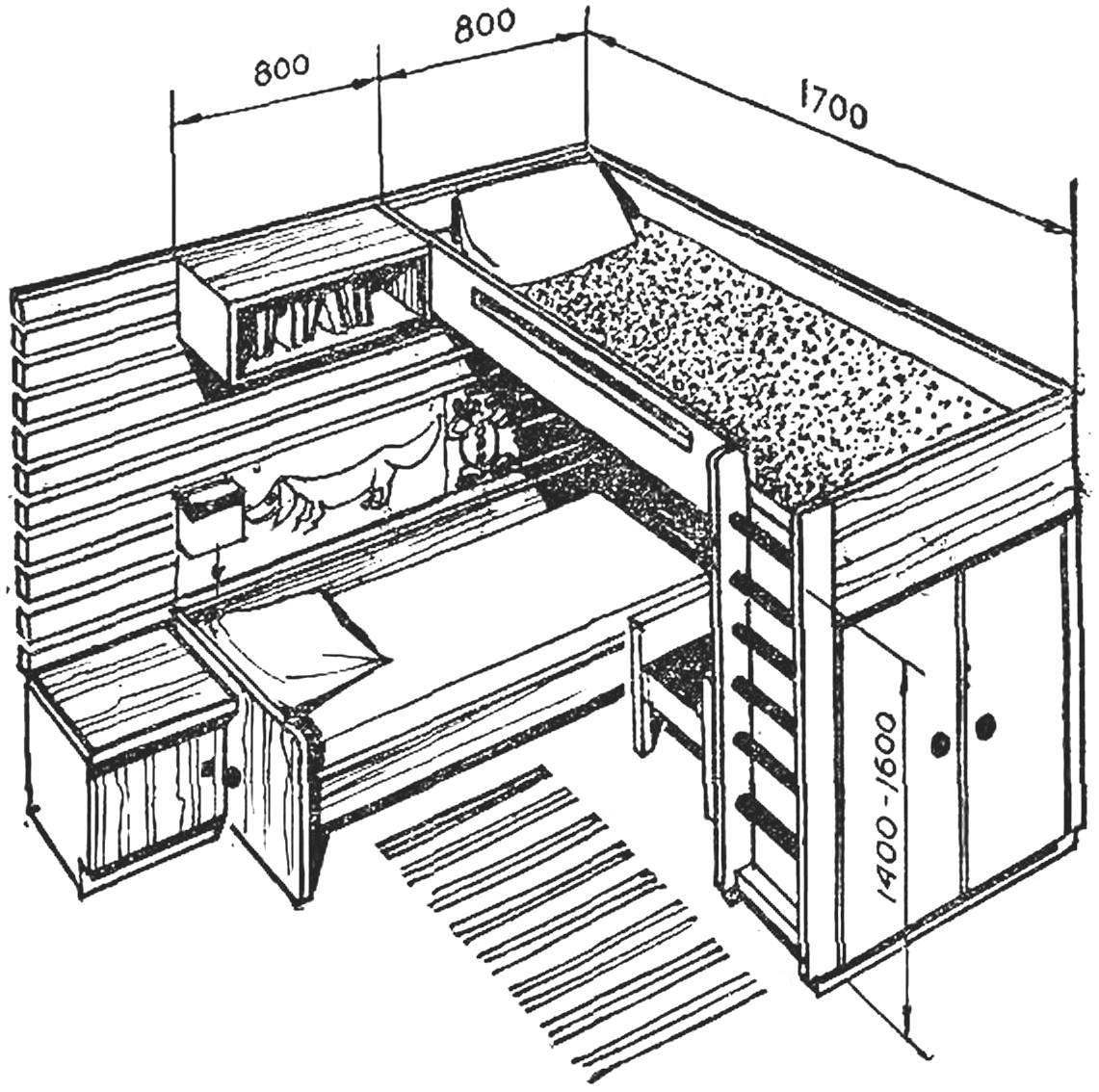 If a family has two children, and their room has a small area, it is very convenient to arrange a place to sleep and rest of children in two floors. Bunk bed usually takes place in the corner so that two side walls of the (longitudinal and transverse sides) adhered to the walls. This is to some extent simplifies the problem of the extra brackets to ensure the rigidity of mounting of vertical and horizontal elements of the structure. In the figures the two versions of the device this bedroom.
In one case (Fig. 1) beds are located one below another; in the second variant (Fig. 3) is a right angle. Design in the first picture is more simple; it is made of wooden elements. It is possible to use parts from old beds. The texture and colour of surface finishing of parts and components should be the same. The rigidity and structural stability is provided by four uprights screwed to the boxes-beds. Stands embedded in the side of the plane and fastened with screws. For security made of extra fence consisting of two horizontal slats. Fence height 150-200 mm. At the head there is an additional emphasis, which is a wooden plate, which is secured by two pins in the cross beam.
The bottom of the box beds of plywood, reinforced by several transverse battens or metal corners on the bottom.

The stairs are ordinary round stick section 35-40 mm. They are secured to the right on a vertical stand and left for them to make additional support (Fig. 2). Parts and connections shown in figure 2 (A, B, C and d).
More complex and interesting solution is represented in the second picture. The upper tier can be made of "semi-finished", that is, of the individual elements of the old beds (and lateral side boards, mattress, etc.). In free space, which is formed under the top bed, can accommodate a wardrobe and toys and the side of his plane to fasten the ladder to the second tier. It can simultaneously serve and support. The design shown in the drawing (Fig. 4, A). It consists of two uprights connected by crossbars. The "box" that surrounds the top bed on the perimeter, raised above the plane of the mattress of 150-180 mm. In one side a notch to which the charge of stairs. The wall mount is metal anchors, which is made of special grooves.
A children's area practical, comfortable and very loved by children.
V. STRASHNOV, architect
Recommend to read
CLAMP "THREE WOOD"
When gluing different items instead of the clamp you can use a clamp consisting of two strips, wire and click. The arrangement of such clamps can be seen from Fig.   S. FEDORENKO, g....
EXPRESS BURNING
Very often for finishing wood products use burning. Even if this operation is performed by a special device — cautery, it is very time consuming, especially when applied to a variety of...