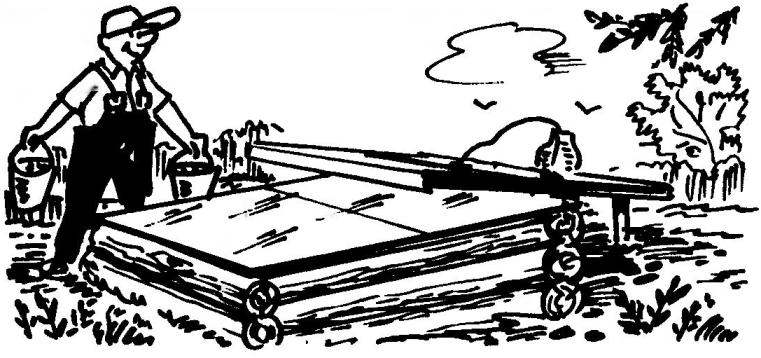 The greenhouse is hardly surprising. As in the days of V. dal, compiler of dictionary of the living great Russian, it's all familiar "hothouse without the furnace; dug-in srubar, a box of manure and black soil, indoor removable Windows for Virasana early greens, vegetables or fruit, loving the heat". Keeping the overall features of its numerous analogues, greenhouse and received recognition from the members of our garden co-op has substantial differences. This excavation shed design that runs on biofuel and is equipped with mechanical system avtobronetehnika. As a "removable Windows" used house the sashes, the Central one of which – with opening transom or large window.
The production of this greenhouse begin with, dig a hole (trench) with a length of 3-4 m, width 1.3—1.9 m and depth 0,5—0,7 m. Wall — inclined, so as not crumbled. It is possible that loose guttering and the soil they even need to strengthen boards in the thickness of 25-40 mm, poles, or bricks. To the pit is not eroded by the rains, at a distance of 400-800 mm from it is advisable to make a drainage looped groove, and for ease of maintenance of the greenhouse is to provide shelter groove wooden boards (on the drawing conventionally not shown).
Piping ("srulec") greenhouse made from sanded logs with a diameter of 150 mm or from thick boards, securely fastened at the corners. Sometimes in the middle "prodelin" install additional bracing in the form of struts.
Logs and boards on top should be planed to frame tightly to the rail of the greenhouse. North side ("Marubeni") strapping 150-200 mm higher than the South top balance beam or Board which it is advisable to choose a quarter or nail a rack focus for frames.
After the production of the greenhouse it's stuffed with biofuels and covered with soil.
At the same time see that the distance from the surface to the film or the glass was not less than 250 mm.
Hollow lean-to greenhouse can be constructed in a different way. Digging a pit in each corner and the middle of the long sides dig in or drive in the pillars with a diameter of 100— 120 mm, which on the inner side put a Board in order to avoid the crumbling earth walls, and at the projecting outer part form a wooden box. Other designs mount the same way.
Often fall to the spring, when seedlings and vegetables, planted in buildings protected ground, suffering from frost. Sometimes not save even reinforced glazing or double film coating. To protect plants can only heated greenhouse, for example, use of biofuels, the most common types which are manure, compost and trash the house.
Although the greatest amount of heat is released during decomposition of horse manure, but it is these days to get easy. We have to settle for what farm specializing in the breeding of cattle.