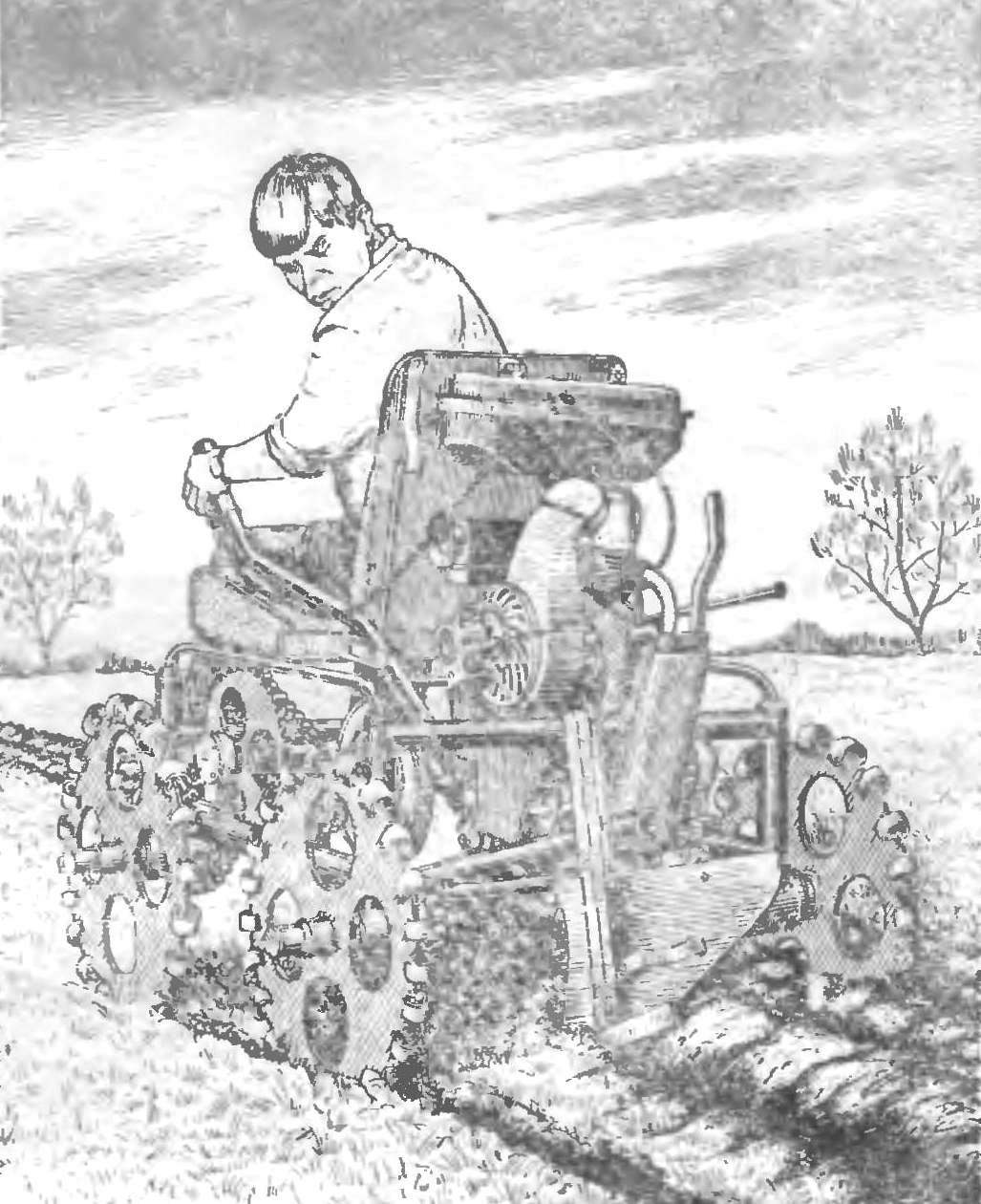 Regular readers of our magazine are already familiar with the Kaluga Amateur designer V. N. Arkhipov, author of easy and productive tillers (see "M-K" № 6, 1982). However, Valentin Nikolaevich considers that it is not so simple as it may seem: to walk on the plowed land, driving a two-wheel tractor and trailer at the same time, is quite tedious and is not for everyone. That's why Arkhipov undertook the construction of a mini-tractor with four wheels that "ride" him: to various agricultural work, while not on m itself. The attempt failed, and the light appeared a kind of chair on wheels — tractor "Kaluzhanin-14". Not so long ago, the author had submitted it to the popular TV show "you can" and received the approval of the competent jury Today at the request of viewers and our readers the journal publishes drawings on which you can build the same "iron horse" helper of your household and garden plots.
Arkhipov produced and an Arsenal of mounted and trailed implements: now "Kaluga" can plow, harrow, hoe, conduct cultivation, plowing, pulling a trailer. In the winter he clears the yard and the road in front of the house from the snow. Serves as a kind of "power center" — activates the pump, circular saw, grindstone, winch, even a generator.
Another advantage of the tractor that the designer has tried to lay in it for a minimum labor consuming operations in the manufacture of parts that are simple and easy to handle. Original a number of constructive solutions used V. Arkhipov: the drive system on all four wheels, the combination of mechanisms turning and braking, the use of axes instead of bridges; I'm sorry it's easy to use node attachment to equipment.
Start with a list of essential pieces that you must have before starting and work. You will need sheet metal 4X200X600 them and two sheets of 1X300X800 mm, poloni 3X25X1800 mm, tube Ø48, 38, 25.4 mm, 26,8, 21 mm (length, respectively, 6000, 1200, 1000, 1500, 4000 mm) rods Ø50 100 mm and 800 mm length.