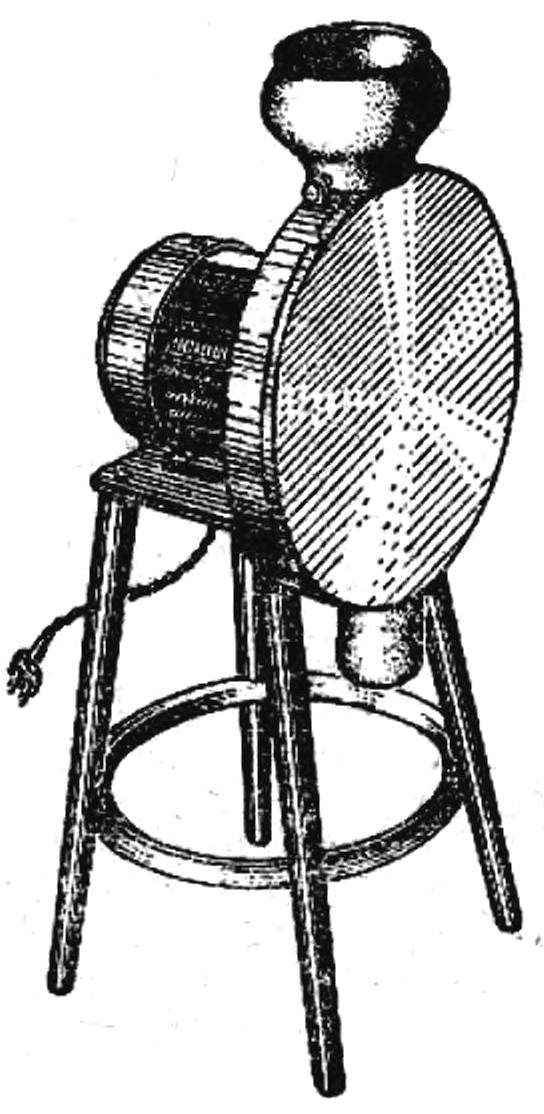 The bread baked in the village oven, needs no advertising: all articles del. Only here to store sacks of flour troublesome, much easier — the grain. And therefore, it is necessary to be able to grind grain at home without having to travel to mill. And get the flour as fine and coarse. At home in the village often have to roughing of grain, sunflower, tear down and to grind chalk, salt, various grain waste. And prepare feed on his farmstead — the dream of a villager: livestock and poultry in private households is increasing day by day.
Here's a mechanism I built, and called it a peeling mill-mill. The main working part is the rotor and the stator. They serve as millstones — the first rotates inside the second. Anyway, my mill looks like. On a wooden stool is a motor power of 1 kW on 220 V, single phase, three phase rewound from discarded. To him with corners mounted the mill to the bearing in the Central hole of bearing down on the motor shaft: this shaft will rotate the rotor, delivering up to 3000 rpm.
The body of the mill is very similar to the round candy boxes with a thickness of 56 mm. and Ø348 the bottom of the box with the Board 50 mm — stator and cover (height 15 mm) covers "inside". On top of the casing with screws M4 has a small pot with carved bottom. Instead of the last-adjusted damper-plate. The bottom — sleeve duster made of canvas (on the same screws). Under the flap and above the anther in the stator is made of Windows "entry and exit" — 15X30 mm. Through the top when the valve is open, the pot goes from "raw" and poured through the bottom of the finished "products". Sleeve recommended use required: grinding will not scatter, and rush Directly into prepared bag or other container.