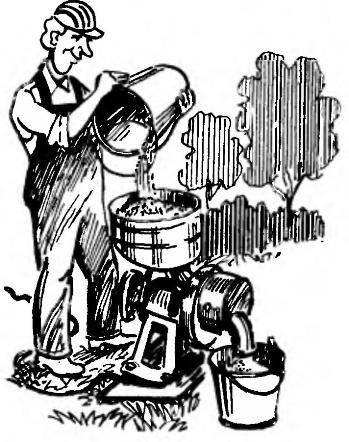 The tank from the exhaust of a washing machine agitator type, the clutch drum of the clutch control from a scrapped tractor T-74 Yes three-phase AC motor — is the basis for a homemade mill-crusher. Its design is portable, which is important for use on small farms and in private households. The main part of the mill crushing chamber. As the drum is adapted named item from the coupling control T-74.
It's ribbed inside, which is very important. Together with the hammers are mounted on the four axles of the rotating rotor, these edges form a crushing bodies electromagnets.
Hammers better to have a standard, from industrial zernoterok, and can be done samim in the home workshop.
On the rotor the hammers are installed with possibility of their easy turn on the axes. From each other they are separated by washers. In the absence of such washers have to settle for a homemade down to less labour-intensive square 6 mm thickness Then the hammers need to put only one washer.
On each axis are mounted on the thirteen of hammers. So, just on the rotor 52. But if the hammers are not standard, and is made, for example, of sheet steel, the thickness of which exceeds 3 mm, you need their number decreases because of the size of the camera and limit the length of the axes.