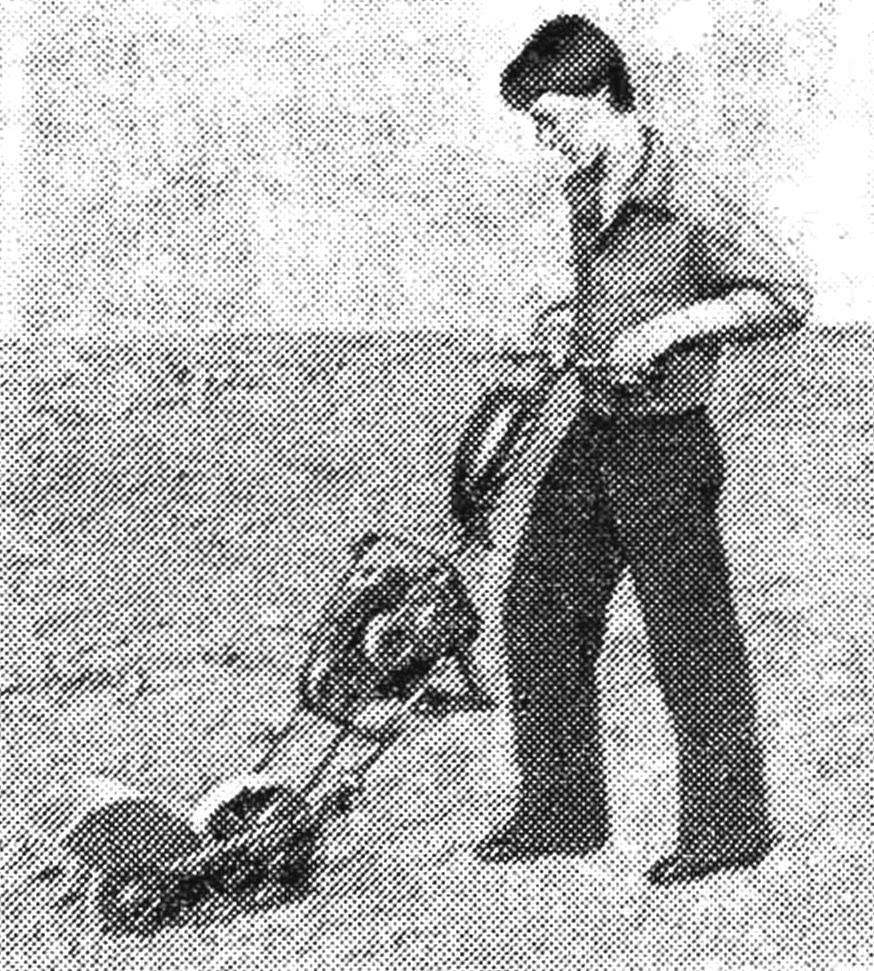 Once the group enemskoe students returned from the field, wearily carrying hoes on their shoulders. To cheer on friends, someone said: "Hoe is a barrier in the way of agriculture…" didn't want to put up the guys with the existence today of such primitive tools as the hoe.
The idea of replacing it with a mechanized variant arose from members of the school organization of VOIR for a long time. First while took up her Sasha Ivanov and Victor Golovin. They developed and manufactured a prototype of mototaxi. He had his faults, but tests have shown that the search direction is correct.
For the improvement of the design came from the Jura Sorokaletov and Adam Chelagat, and later joined the Jura Sokolenko. The guys came out available in the school workshop details. Despite this, the latest version of mototaxi showed a good performance.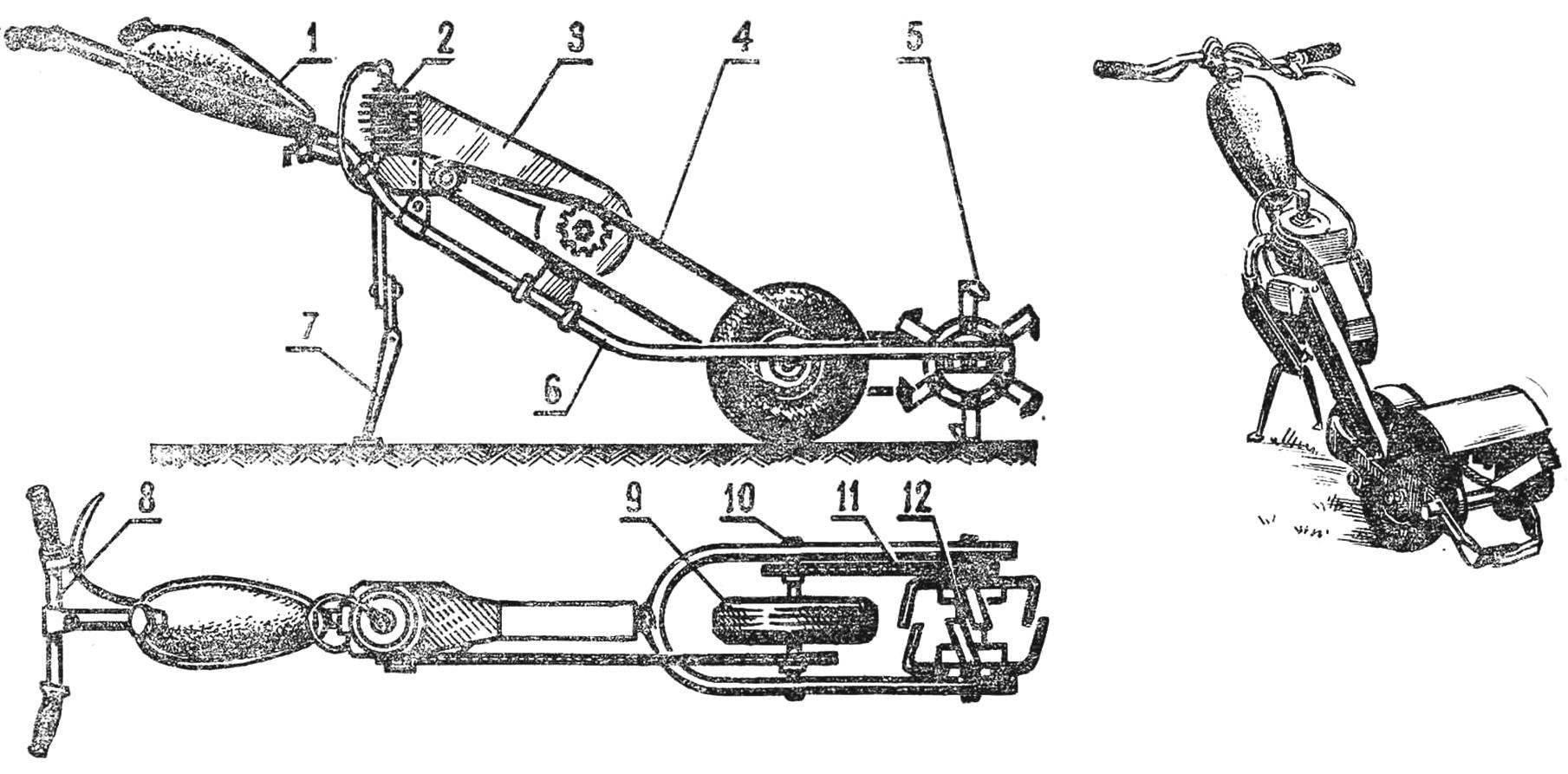 GENERAL VIEW AND SCHEME OF MOTOTAXI MTU-1:
1 — fuel tank 2 — motor, 3 — fan, 4 — chain transfer, 5 — working knives, 6 — frame, 7 — step, 8 — steering wheel with controls, 9 — wheel, 10 — wheel axle with sprockets 11 — chain transmission, 12 — shaft of working blades.
For the manufacture of mototaxi MTU-1 used as a frame plug from the front wheel cargo scooter T-200. Cut the water pipe was a lever and basis of the whole structure. The curve of her set engine D-5. Start it with a starter from chainsaws "Friendship", adapted to this engine. Motor cooling is effected by means of a fan, which the students have constructed themselves. Tank mounted above the engine, fuel flows by gravity. Levers clutch and the gas withdrawn into the handle, which used a Bicycle wheel. In the middle part of the frame and Aleesa small support wheel that is planted on the axis, serving simultaneously and the intermediate shaft of the transmission from the engine to the working organ.
Working body is the shaft of the knife holder in the form of a coil from under the thread. The side disks of the coil bolts are fastened six l-shaped knives. The working part of the knife is directed at an angle of 30° relative to the axis of the coil, which contributes to their self-cleaning during operation.
TECHNICAL DATA MOTOTAXI MTU-1:
weight — 9.2 kg, length — 1480 mm, diameter support wheels 260 mm working shaft rotates at a speed of about 120-140/min; cutting width — 140 mm depth — 30 — 40 mm, capacity from 0.03 to 0.05 ha/h.
Recommend to read
The SNOWMOBILE? The AIRBOAT? AMPHIBIOUS!
Readers of "M-K" have already had the opportunity to meet with a student design Bureau Mari Polytechnic Institute (see No. 8, 1977). This team is many years engaged in the original...
WITH A BEAUTIFUL HEAD
Is all sorts of advice was on the use of caps and lids from unnecessary bubbles and tubes. Here's another — receiving beautiful shaped heads of bolts or nuts. Look at the picture....