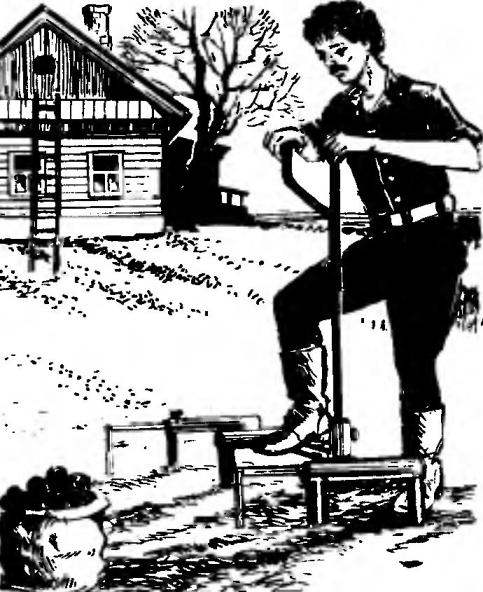 "Potatoes are often called the second bread. Only easy this bread gets. Especially without the use of nepamirstama tillers and small tractors, with the only hope for a spade, Yes a spade. About a year ago, "modelist-Konstruktor" sort of decided to help by posting a good development of the tracer-the potato made from water-gas supply pipes. But then seems to have forgotten the promise to return to the topic of mechanization in the cultivation of labour-intensive crop, which is a pity. V. Ivankov".
One swallow, as they say, does not make a spring. We can hardly expect any noticeable changes and the use of a single development, even if that is highly appreciated by gardeners tracer-potato ("modelist-Konstruktor" No. 5 of 1996). Need a set of modern, specialized tools and manual equipment to facilitate planting, cultivation and harvesting such a labour-intensive crop, like potatoes.
For example, I use a set of homemade tools. But it may wish to recommend only what has undergone the strict inspection field and time.
Plowed on, not nailed rain garden to work well with tracer-planter with twice the number of amcooperative (Fig.1). If the soil is additionally loosened with a rake, the pointed elements of the tracer are included in it, even without much pressure with his foot on the hard ground. Productivity increases by almost one hundred percent! However, provided that the fixture is made of thin-walled steel pipes to make it easier.