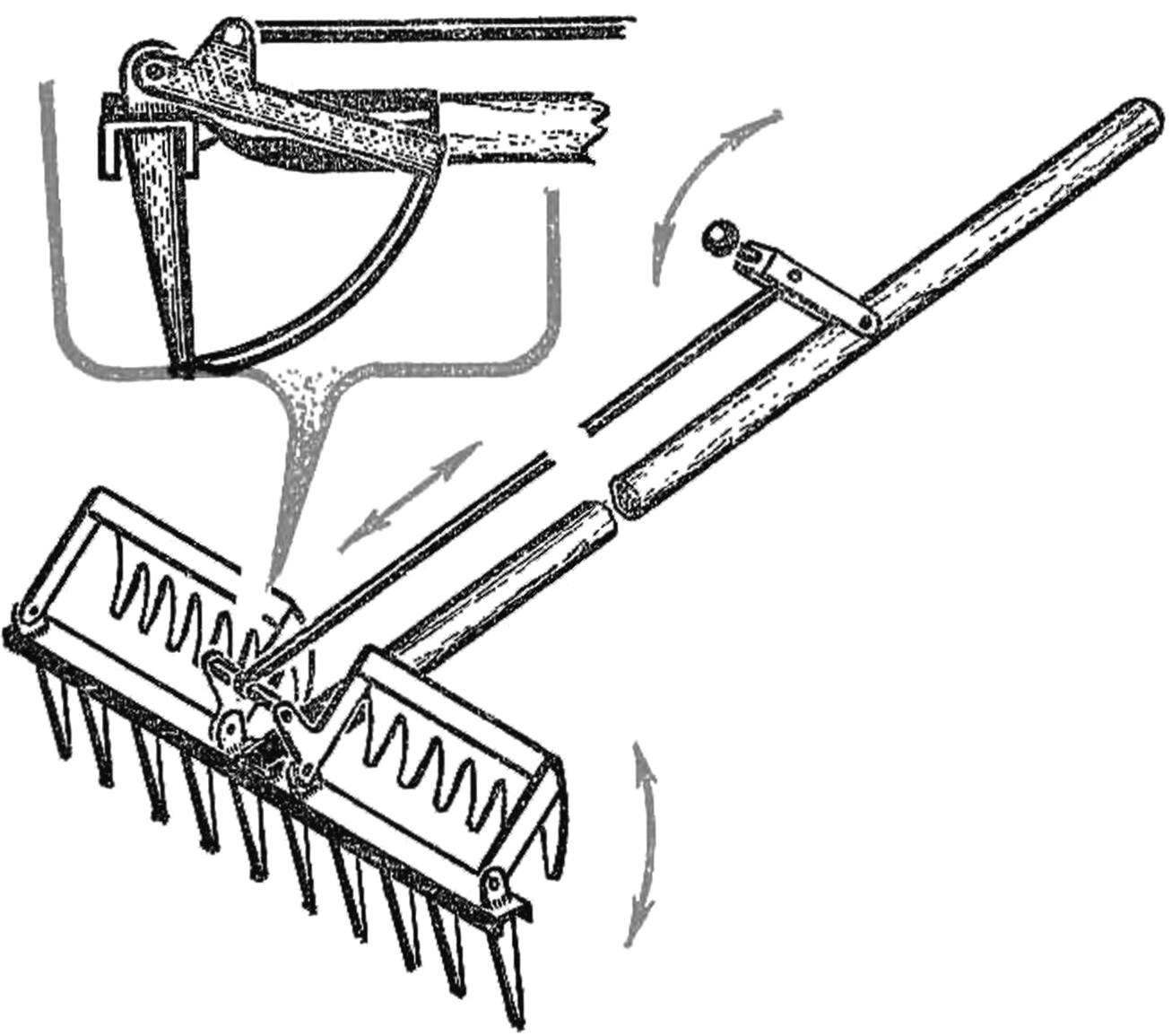 Cleaning up fallen leaves is one of the everyday work in any garden. And basic gardening tool and an ordinary rake. Nemurasete seems to be the case, but… to remove the foliage even with a small site, you need to bend down hundreds of times: to rake up, to lean over and, holding with a hand fluttering leaves, green thumb carries them in a wheelbarrow or basket. If you upgrade rake as shown in the figure, to prepare the garden for winter is not an example easier. For the comb you need aluminum or steel sheet with a thickness of about 2 mm. Raschertite the pattern, cut it and fold as shown in the figure, and four screws attach to brackets welded or riveted to the strap. Levers combs connect a steel stud previously passing through the rod; the latter is best made of aluminum ski poles. The opposite end of the pull rod is attached to the lever with the handle planted on the handle of the tool. Now you can start to work. Place the lever in forward position — the teeth of the comb will rise up and rakes can act as usual, collecting in a pile of fallen leaves. Then pull the lever to himself, the teeth of the comb and rake together, capturing a good portion of foliage; it remains only to move it in a basket or a wheelbarrow and dump, moving the lever to the forward position.
Recommend to read
AND NIGHT — DAY
On the Parking of campers and motorcyclists will be useful to fluorescent. It gives good coverage and is very economical. As power supply used by the DC / DC Converter transistor type...
DON'T SPOIL THE VIEW OF THE BALCONY
Quick-drying underwear on the balcony, loggia, but how ugly looks like a house from the street. Offering a simple design linen dryers with removable cords strained at the railing, and...