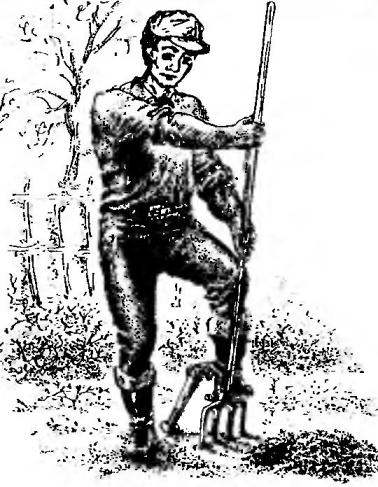 We are not talking about dancing on beds, and about the original garden tool with which time-consuming, running from time immemorial bayonet shovel (in the best case — the special fork) work on the "home" plots become even elderly people (author and tester this design is over seventy).
Despite the "canned" patent office "claims" — "the Device with a lever, the fulcrum of which, moving forward and backward through a short arc of a circle, at the same time — through the support-rotating rack, does not lose permanent contact with the ground throughout each work cycle," lever garden digger (ROCK) is quite simple, reliable, available for manufacture in a modest home workshop. In fact, it is modified gardening fork, equipped with swivel-locking knee, pedal Yes, lever-hinge mechanism with a rotation counter.
Most of the parts of the Rock is performed from a sheet of hard aluminum with a thickness of 3 mm. Although you can use steel 1,5 mm sheet, for example, "stainless steel". The tool in this case will be heavier, weighing up to 3-3. 5 kg but more durable.