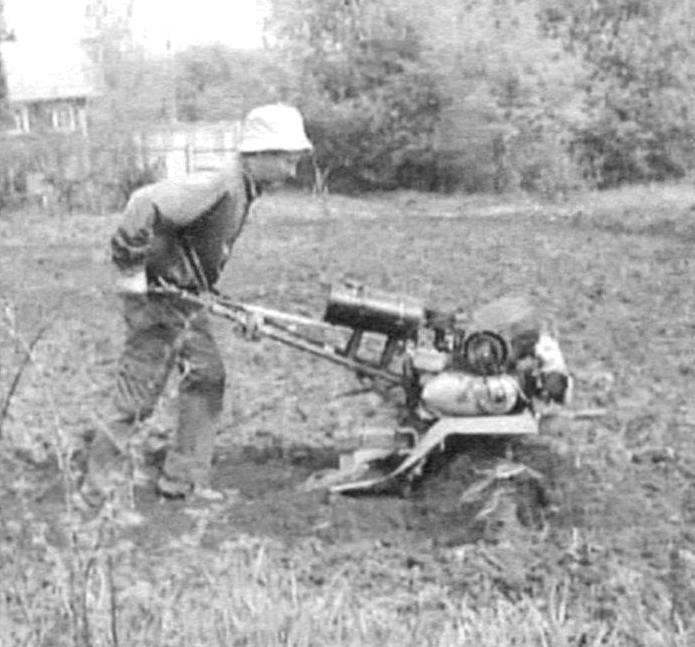 Almost ten years ago bought a house with a plot of land in the village. The site must be processed, but without technology this work was daunting, and the money she had left. Here and was forced to build for these purposes, the tillers. Experience Amateur construction by that time I already had again, to travel to the village in the winter time made a "cane" snowmobile (remendously caterpillar). Tillers same though and have seen a lot (as industrial production and handmade), but he thereof built for the first time, so did many things as instinct. In the estimation of the tillers had become more a vehicle for the same trips and trucks and even all terrain, as part of the path to the village was a road which a road can be called only with great reserve.
Looking ahead, I note that the design has been quite successful: simple and reliable. Subsequently, I had built several of these tillers to order, and other craftsmen, including the guys from our club "modelist-Konstruktor", in the construction of their machines took it as a model. The publication used pictures of several of them, so the performance of individual units may not coincide with the original design. But it can be used by those who want to repeat the design in their option.
With a choice of power units was not a problem — were available is not new, but serviceable engine from a motorcycle "IZH-Planeta-3". He once purchased a bag, disassembled, but have proivisional and collected. Design capacity of 18 HP it is, of course, to provide could not, as his cylinder was already quite worn, but the strength is 15 — 16 he was issued.