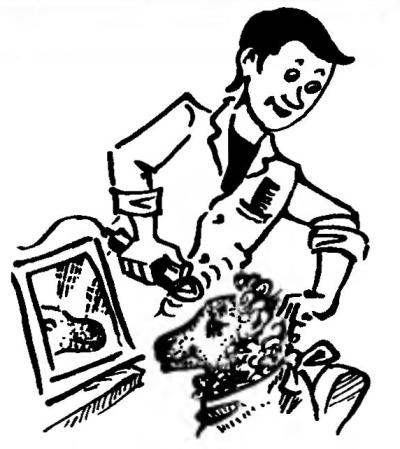 Shearing machines МСУ200 with a built-in handle three-phase asynchronous motor (200 Hz, 36 V, 100 W, 12, OOO rpm) we have in the village is not uncommon. Though slightly modified, with a reinforcing grommet for the power cable. This technique is popular in neighboring areas, where used by shearers of sheep and camels, as well as professionals postconservatism skins Karakul smusic. As a full-time source of electricity for it is a three-phase network with voltage of 380 V, which МСУ200 connected through electric machines-nye converters ИЭ9401А and ИЭ9403.
The first of these units serves for simultaneous supply of 12 shearing machines, the second for six. But they both, unfortunately, become uneconomical for small loads.
Since recent time began to spread and transistor inverters, is designed to supply a single shearing machines. Designed for small farms, these compact, noiseless, have high efficiency units are connected to a domestic single-phase mains voltage of 220 V. But there are two significant, according to Pro-fessional practitioners drawbacks: the excessive complexity of the circuitry underlying the design, and low reliability due to the fragility of the output stages, which often have to operate in very arduous modes.