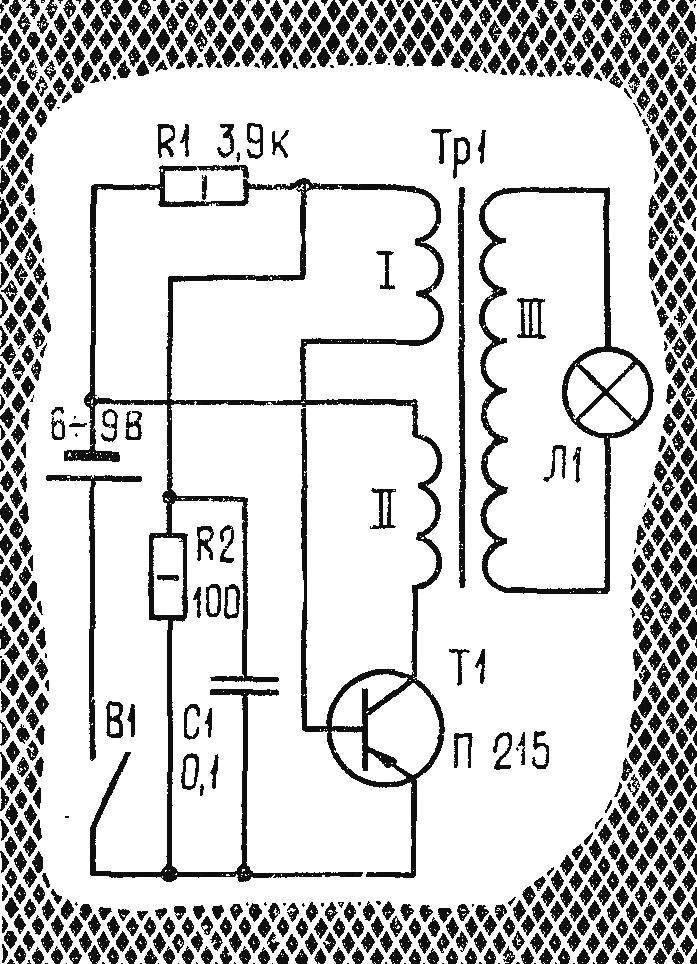 On the Parking of campers and motorcyclists will be useful to fluorescent. It gives good coverage and is very economical. As power supply used by the DC / DC Converter transistor type П215 (П202, П217, P4) that can run on batteries.
Transformer Tp1 is wound on a ferrite ring from a deflection system of the TV or on the core stronica. The primary winding has a 50 — 70 turns of wire of PEV of 0.4—0.5, the secondary — 30 — 35 turns of PEV of 0,7 — 0,8, and the third 750 — 1200 turns of wire sew 0,17 — 0,2.
Transistor T1 for better cooling has a double U-shaped radiator.
S.

JUICES, teaching 9th grade, Kuibyshev
Recommend to read
FILTERED ANY WATER
Most water filters designed for connection to the tap water. And what about those who have "bucket-wire", who carry water from a well? In these times and so often you have to clean....
TO DRY TO SMOKE? PLEASE!
To dry mushrooms, fruit, or smoke, for example, meat, fish — not from an ambulance. And troublesome, tiresome to make sure that the process went properly and the result was good food for...