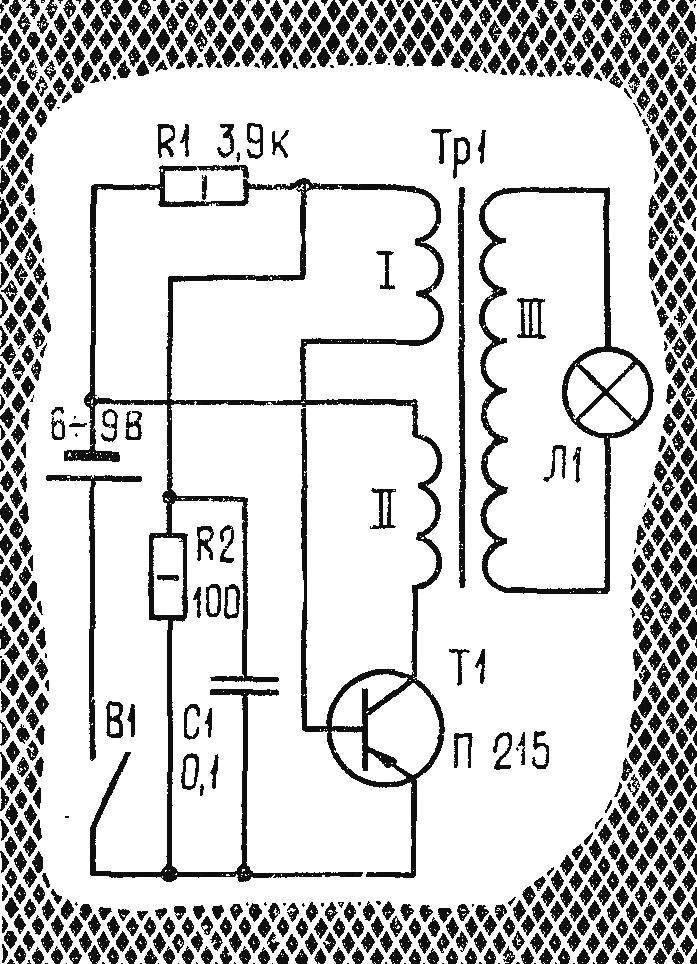 On the Parking of campers and motorcyclists will be useful to fluorescent. It gives good coverage and is very economical. As power supply used by the DC / DC Converter transistor type П215 (П202, П217, P4) that can run on batteries.
Transformer Tp1 is wound on a ferrite ring from a deflection system of the TV or on the core stronica. The primary winding has a 50 — 70 turns of wire of PEV of 0.4—0.5, the secondary — 30 — 35 turns of PEV of 0,7 — 0,8, and the third 750 — 1200 turns of wire sew 0,17 — 0,2.
Transistor T1 for better cooling has a double U-shaped radiator.
S.

JUICES, teaching 9th grade, Kuibyshev
Recommend to read
THE ANTENNA… HIGH-SPEED MANUFACTURING
Once, while on vacation with an overnight stay in a tent on a wooded Bank of the river, found an annoyance: a portable TV operating off the car battery, bad was shown on the set of the...
SPARK INSTEAD OF A MATCH
A lighter, a diagram is shown in the drawing, is intended for gas stoves. It is reliable, comfortable and safe. The device is a transistor blocking oscillator, powered by dry batteries...