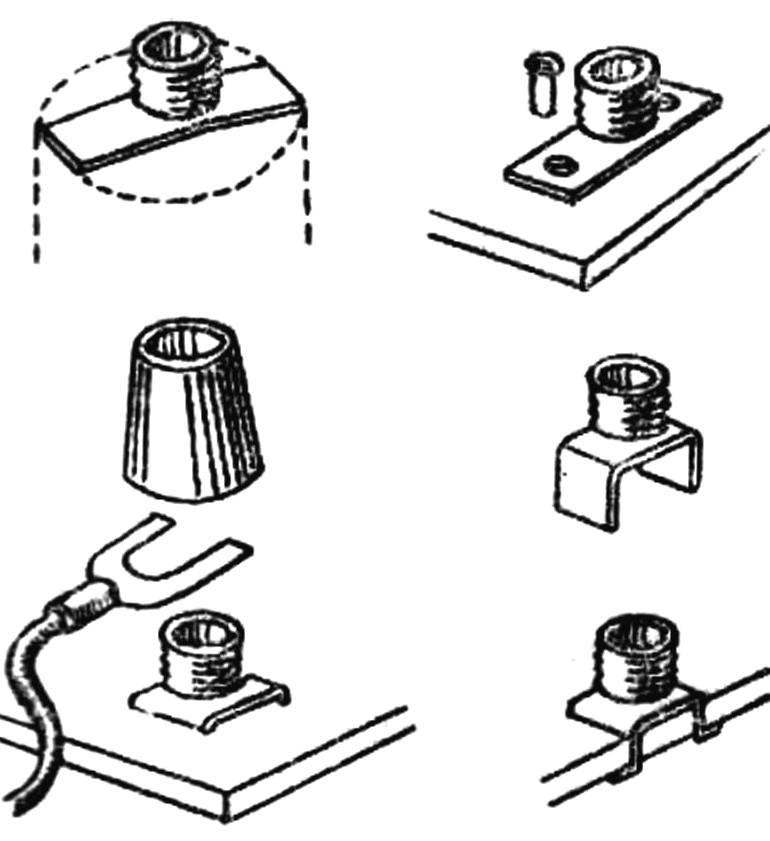 In Amateur practice it sometimes becomes necessary to connect to the layout of the electronic device or the measuring device of the connecting wires. Most convenient to do this using terminal, but under their hand often does not happen. Meanwhile, quite a handy terminal can be easily and quickly — just over a quarter of an hour to make usual tubes (toothpaste or cream).
Cut from a tube threaded neck together with a strip of aluminium as parapano in the figure. To fix it on the Board in two ways. The first two hollow tubular rivets (rivets). This method is convenient because it allows you to use one of the caps for sealing in it the connection wire. The second method, the ends of the aluminum strips are bent at right angles, are introduced into the grooves sawn into Board, and then folded and pressed.
In the cap of the tube is a good idea to drill through-hole Ø 6 mm — it is convenient to insert the pin probes of the tester to monitor the voltage.
I. SAVCHENKO, Kiev
Recommend to read
REACTIVE "FRAME" DE-HAVILLAND
This project began with specification E6/41, dated November 1941 In her Ministry of aviation industry of great Britain has offered the firm "de Havilland air craft company" to explore...
TRACTOR FROM CARS
Thanks for the favorite magazine, which can be prescribed and stored since 1976. Many articles and tips from it helped in the construction of improvised equipment or improve production....