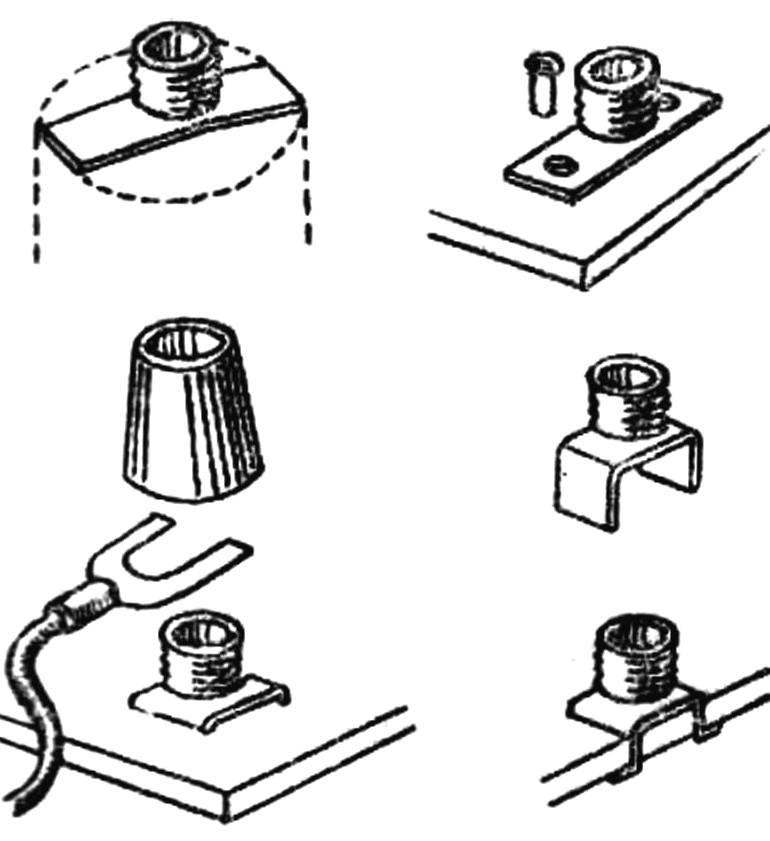 In Amateur practice it sometimes becomes necessary to connect to the layout of the electronic device or the measuring device of the connecting wires. Most convenient to do this using terminal, but under their hand often does not happen. Meanwhile, quite a handy terminal can be easily and quickly — just over a quarter of an hour to make usual tubes (toothpaste or cream).
Cut from a tube threaded neck together with a strip of aluminium as parapano in the figure. To fix it on the Board in two ways. The first two hollow tubular rivets (rivets). This method is convenient because it allows you to use one of the caps for sealing in it the connection wire. The second method, the ends of the aluminum strips are bent at right angles, are introduced into the grooves sawn into Board, and then folded and pressed.
In the cap of the tube is a good idea to drill through-hole Ø 6 mm — it is convenient to insert the pin probes of the tester to monitor the voltage.
I. SAVCHENKO, Kiev
Recommend to read
POTS-UNIVERSAL
You presented a large bouquet or you bring one from your country area — where to put it? There is a beautiful crystal vase but it is too big Need something roomier And that can be on...
CALL, OPEN THE DOOR!
When apartment, Villa or house have two entrances, it is not always clear where to call. Electrosonic, which tells of the Bulgarian journal "Radio Television Electronics", rid us of this...