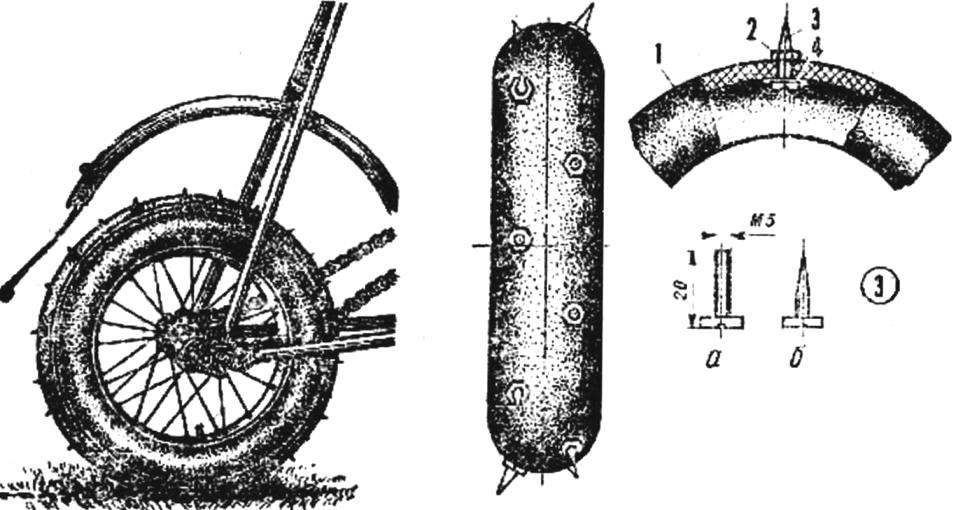 The magazine has repeatedly printed design microvesicles on the basis of details of children's bikes and motors D-5 and D-6, however mainly for use in the summer. We with the friend decided to create a machine where you could go in summer and winter.
The installation of a thorn:
1 — tyre, 2 — nut, 3 — bolt, 4 — washer; a — bolt before treatment, b — after treatment.
The frame was taken from the Bicycle "the Schoolboy", the ear — from a child's Bicycle is "Bunny", motor — D-6. To our moped you can use the winter roads, I decided to bilobate tires. Of course, we were not able to produce special spikes, so I used just the available M5 bolts by hand, giving them a file the required form. As we installed the spikes, can be seen from the accompanying diagram. Tests showed that this simple solution is fully justified: the driving wheel does not slip even on ice. So I decided to share my modest experience.
A. PECHENKIN, V. SHALAMOV, Kazan
Recommend to read
CONDENSER FLASHLIGHT
In the memorable 1990-e years I worked at the Kirov plant instrument maintenance computer. Every morning we had to go down to the basement to enable refrigeration. Bulbs in the basement...
LOOSEN THE DEPTH
Compaction of the soil. It occurs, as is well known, not only as a result of systematic effects on the earth-wet nurse of heavy machinery, vehicles, but also because of natural causes....