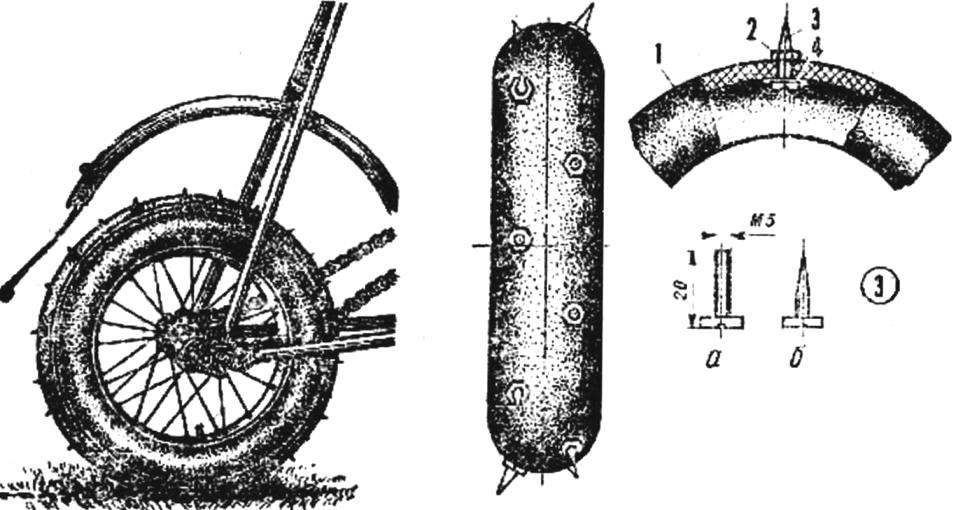 The magazine has repeatedly printed design microvesicles on the basis of details of children's bikes and motors D-5 and D-6, however mainly for use in the summer. We with the friend decided to create a machine where you could go in summer and winter.
The installation of a thorn:
1 — tyre, 2 — nut, 3 — bolt, 4 — washer; a — bolt before treatment, b — after treatment.
The frame was taken from the Bicycle "the Schoolboy", the ear — from a child's Bicycle is "Bunny", motor — D-6. To our moped you can use the winter roads, I decided to bilobate tires. Of course, we were not able to produce special spikes, so I used just the available M5 bolts by hand, giving them a file the required form. As we installed the spikes, can be seen from the accompanying diagram. Tests showed that this simple solution is fully justified: the driving wheel does not slip even on ice. So I decided to share my modest experience.
A. PECHENKIN, V. SHALAMOV, Kazan
Recommend to read
SECOND COUNTS… "MOUSE"
Currently available a variety of models of wall elektromekhanicheski quartz watches with stepper motor. They are, as a rule, uses unpackaged integrated circuit — the oscillator/divider...
FOLDING RECUMBENT
I — a longtime and devoted reader of the magazine "modelist-Konstruktor". And now decided to write about my velomobile, which has created, as they say, "on the knee".   The basis...