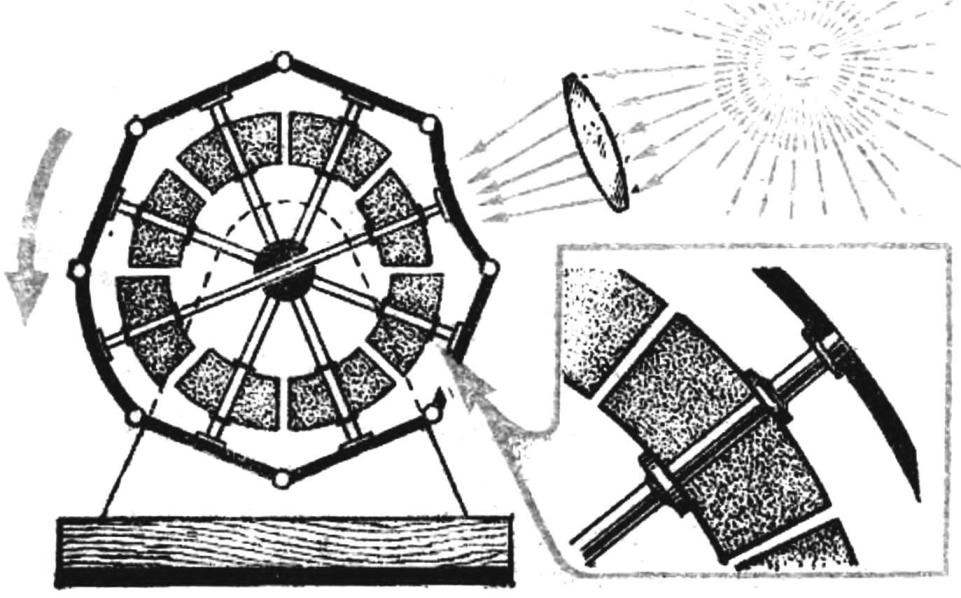 The intricate design shown in the picture, — not that other, as the solar engine, the engine that converts the thermal energy of sunlight directly into mechanical
work. It is arranged simply. The surface of the octagonal drum represent the bimetal plate. With the middle of each bound metal rod heavy enough counterweight. Opposite one of the faces is located a converging lens. The engine works in the following way. The sun's rays focused by the lens, heat up the strip, causing it to bend; at the same time moves the associated counterweight. The balance of the system thus disturbed, and the drum is rotated 1/8 of a circle, substituting the sun the other his face. The process is repeated.
Recommend to read
NUT INSTEAD OF SOLDERING
When making loops on the ends of the steel wires are usually soldered. Propose a rapid method of producing such hinges. Reliability is guaranteed. I put the nut on a loop of the right...
KETTLE-SAMOVAR
If you look closely, a kettle different from a simple pots only in the presence of the spout. Compare: the cover has a handle, though particular in form, has a frame that certainly...