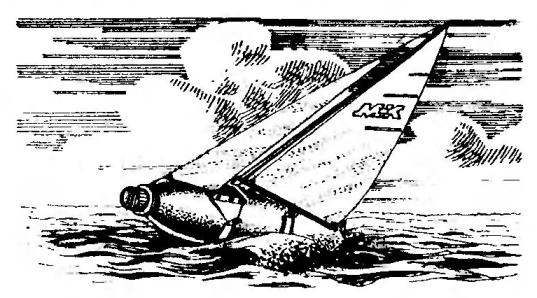 The number of cases of "improper" use of plastic bottles of carbonated drinks exceeded, judging by the publications in the journal "modelist-Konstruktor", all conceivable limits. And recently, this bottle has adopted even modelers, created on its base ultralight tank for compressed air, resulting in rotation of the pneumatic motor of the airplane.On the basis of these lightest of the vessels was developed as several boat and for novice modelers and for older children.
It is preferable to use, possibly longer bottle with a tapered throat part of the body it can become more streamlined. Vessels under still water is better not to take — they are not designed for high internal pressure. And the pressure in the bottle will have to create it become more rigid, which will allow to consolidate her hanging nodes of a sailboat. To make it easy enough to pour into a bottle of baking soda and then pour just a little vinegar and quickly tighten the plug.
Node mast of a sailboat consists of steps carved from birch or beech wood thick 15 mm, and a pair of dural poluchaut attached to the steps with rivets or bolts with nuts. Tips poluchaut bent — they are designed for fixing the box to the housing using a clamp and a couple of small bolts with nuts. In steps the drilled blind hole (mast cups) with a diameter of 8 mm, intended for fixation in it of the mast.
Keel node machtovaya the same, only it consists of two pairs of dural Polukarov, between which is fixed a keel, cut from 5-mm plywood. For better aerodynamics section of the keel plate has a symmetric biconvex profile. At the end of the fixed palpal bulb keel — lead weights, enhancing the stability of the yacht.