The model is based on a cone-shaped tube of the housing. She bent from steamed plywood with a thickness of 0.8 mm on a metal mandrel, dried, and then removed from the mandrel and trimmed at the ends. The most reliable and easy option to the longitudinal seam of the overlapping edges of the sheet-patterns with material removal on one of them "no." Formed after the gluing of the ledge is removed with the help of files and sandpaper.
The front and rear ends of the tube are closed with balsa fairings (extremities). The front is reinforced through the installation of vertical ribs made of plywood with a thickness of 2 mm and light weight balsa for detail. The lower surface of the nasal tip is flat and acts as a two-stage step, to preserve the high quality surface which helps the covering is of duralumin sheet thickness of 0.25 mm.
Before installing the rear end in a plywood housing pipe is sealed with a segmental boss section and the balsa fairings of the transition to the stabilizer. Using these details the balsa stabilizer mounted on the housing. The reliability of the connection increase the two screws M3 at the same time holding and dural plate with thickness of 1.5 mm for the rear "shoulder" of the bridle. After you complete these operations you can paste the tail fairing of the hull.
At the ends of the stabilizer installed balsa floats of small size (they are only needed during the launch the glider), trimmed bottom and fore redan, thin sheet duralumin. The stabilizer is processed to obtain a carrier PLANO-convex profile.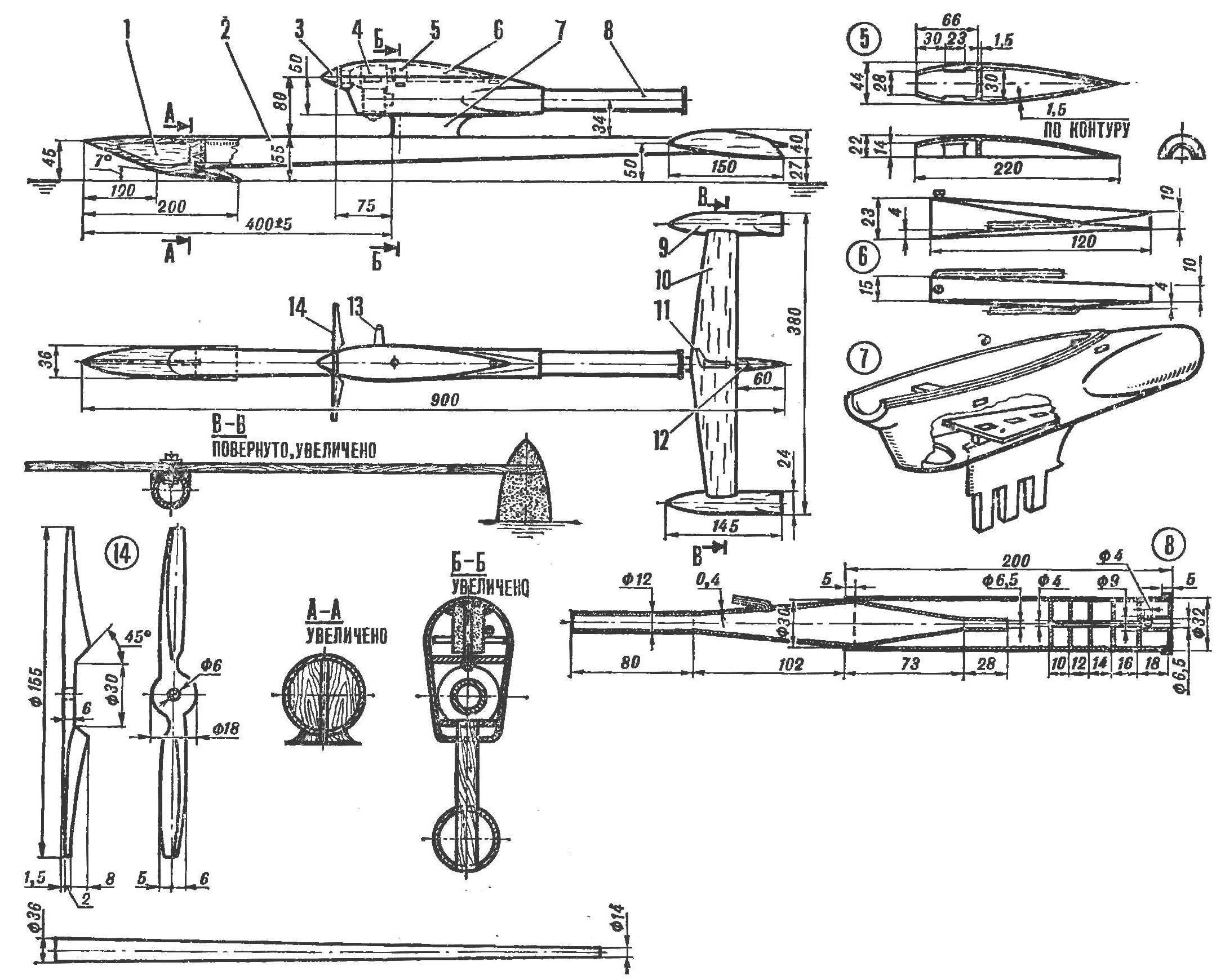 Cord airboat class B1:
1 — fore end, 2 — body, 3 — Kok air vnta, 4 — engine, 5 — motor, 6 — fuel tank 7 — pylon fairing. 8 resonance exhaust pipe with an extra chamber, noise muffling, 9 — float 10 — stabilizer. 11 — the rear attachment point of the bridle. 12 — rear extremity of the body, 13 the front attachment point of the bridle, 14 — propeller. Below shows the mandrel for the manufacture of the tubular body. Mandrel length 800 mm.