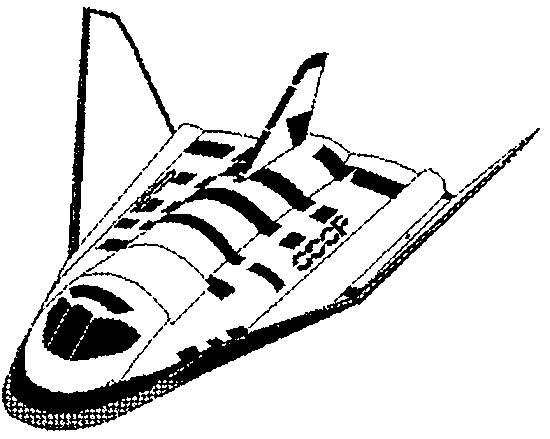 We introduced readers interested in a new flying class, with the design of the world Cup winner F. Barnes. Judging by editorial mail, the model has attracted the attention of athletes. For those who are going to build such devices, we published drawings and a description of the rocket R. Parkes, who won the same championship the third place. His model represents a different direction of designing a radio-controlled rocket paritala in which the engine is installed in the rear fuselage.The fuselage is stacked.
On the balsa polosamota 3 mm thick during Assembly are mounted to the sidewall of balsa (plywood) with a thickness of 1.3 mm. Front box balsa the fuselage is closed by the boss, is processed to obtain a streamlined shape. The container for the engine glued several layers of thin paper on the mandrel d 24 mm, after mounting box to the fuselage is closed at the top and bottom balsa plates with thickness of 1.8 mm. Other modifications of the described models had the fuselage fully laminated of fiberglass. In the amount of the bow is set a whole set of side of aparatury with two steering servos on the left side of the fuselage power switch.
The center section of the wing visseren balsa 12 mm thick, its ends are covered with plywood with a thickness of 1.3 mm. At the axis of symmetry of the wing behind the drilled hole to the axis of the wing spar in which is mounted the carbon fiber tube tail boom. Its outer diameter 8 mm, Wall thickness 1 mm. In the area of the rear edge of the center section beam reinforced by the most loaded phase at the expense of additional carbon top tube d 10X1 mm.