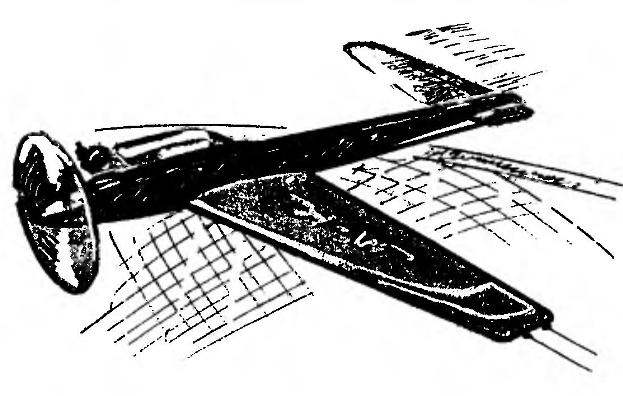 The proposed control line speed model (C. F2А) asymmetric scheme designed and built in the aeromodelling club "Falcon", under the leadership of its founder and coach B. I. Shibanova, the 9th grader Alexander Fights. Personally on command by the primacy of Moscow in 1999 among young men, he took second place. His model showed speed 118,8 km/h. Structurally, the model replicates the appearance of speed with which athletes perform, including master of sport international class. Its features include an asymmetrical wing and stabilizer (actually halves of both), located on opposite sides of the fuselage.
In addition, the model is completely missing the keel and chassis as the structural elements, that impede the achievement of maximum flight speed.
The FUSELAGE is a flat, solid wood, made of Linden planks 9 mm thick sizes 380×45 mm. It has two cut length of 90 mm and a width corresponding to the thickness insert the wing and the stabilizer. Both of the cutout are parallel to the longitudinal axis of the model at a distance of 15 mm for the wing — from the lower line of the fuselage, and stabilizer from the top. The tail of the fuselage narrows. To give the best aerodynamic shape for the top of its edges and the tail part is rounded from the bottom, starting from the trailing edge of the wing. The entire fuselage is covered with fibreglass thickness of 0.03 mm, which gives it the necessary stiffness, and impregnated with varnish for painting.
For leash cord management system in the fuselage drilled two holes with a diameter of 2 mm: the first at a distance of 110 mm from the toe of the fuselage and the second in 36 mm from the first. From the bottom to the fuselage on the line of the bypass from the sock to the rear edge of the wing attached on the screws wpoty landing ski of duralumin plate with a thickness of 1 mm. It protects the model from damage when landing on the asphalt surface of the track. The front part of the skis with a width of 19 mm, as in this place it closes more and lower the bar to the motor, and the rear width of 9 mm.
The ENGINE FRAME consists of two plates with dimensions 95×8 mm bars beech or hornbeam 10 mm thick glued with epoxy glue on the top and bottom on the right side of the fuselage at a distance from each other equal to the width of the engine crankcase. The front ends of the bars processed along the contour of the fuselage, and the rear taper.