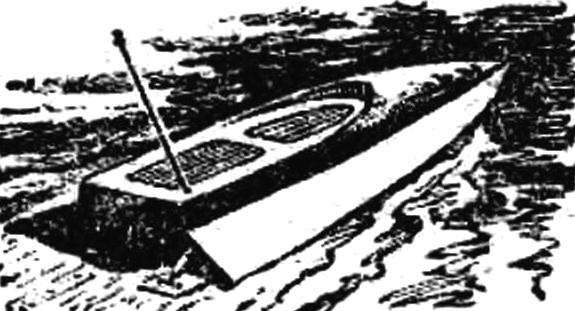 The model, which will be discussed, applies to the class of high-speed RC models with electric motor total weight of over 1 kg (F1-E>1kg). According to the world Association of ship modeling and ship modeling sport (NAVIGATION.) it belongs to the class of radio controlled. This is the most numerous class of models denoted by the letter F and a numeric index. For model class F1 (F1-V2,5; F1-V5; F1-V15; F1-E>1kg) the basic requirement to perform a "flight" in minimum time: the winner of the race, which I sudomodel showed the least course time.
Form of the body, such models are virtually the same — a bottom recess of the deadrise, longitudinal planing steps and cheekbones of a particular form. As engine I the class F1 V2,5 use of internal combustion engines volume of 2.5 cm3 running on water or air screw, in the class of F1-V5 — from 2.5 to 5 cm3, in class F1-V15 — from 5 to 15 cm3, in both latter cases, working in a water screw.
The body is laminated on the matrix of two layers of glass, of a thickness of 0.3 mm and epoxy resin.
Bulkhead and transom are carved from Styrofoam brand PHV-1, and the sliding cover of the cockpit is made of fiberglass with a thickness of 0,6 mm.
Propeller — variable pitch: the hub 65 mm, and the ends of the blades 75 mm screw Diameter — 52 mm. Made on a milling machine from duralumin brand D16T.
Deadwood integral is made of duralumin D16T, shaft — spring-wire Ø 3 mm. the Latter rotates in bearings n 10 000 83 external Ø
7 mm.