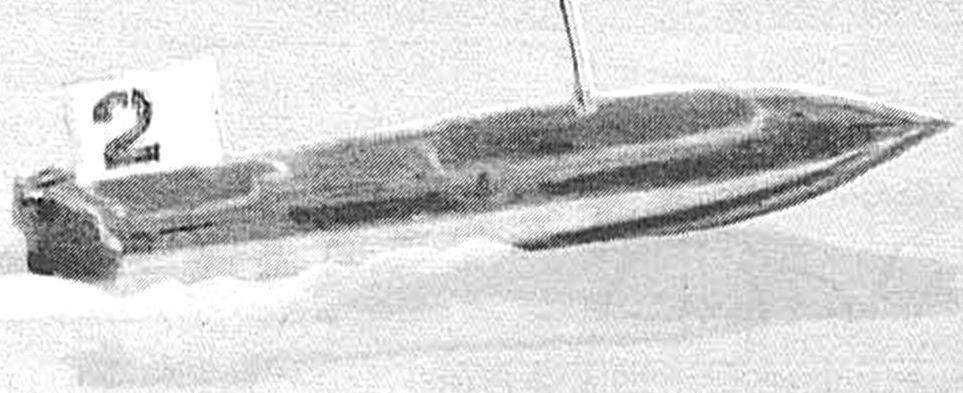 Barely touching the redan to the water surface, sometimes on one rowing screw, is worn on aquadrome models class FSR. Speed, maneuverability, dynamics and seaworthiness of the glider — all this is possible and feasible if the model is thought out literally all the features of its design.
Today we want to introduce athletes modelers with radio controlled model of the type FSR-3,5, recommended by the Polish magazine "Modelarz", with the power plant, which offers drawings of the German magazine "Modellbauwelt".
Body shell wikiepedia of two halves — top and bottom. The work should begin with the production of the master model, doing her best from softwood, e.g., basswood. For this selected block of appropriate dimensions; if you find such not succeed, the workpiece is glued from several boards, positioning them as masons in laying bricks offset by half the width.
Further on the theoretical drawing cut templates — their contours should correspond to the depicted in our drawings. Material templates can serve two to three – millimeter plywood, and even better — made of anodized aluminum the same thickness.
The next stage — the markup phony workpiece. It is necessary to produce a surface gauge marking on the plate. When applied this line of planes, which are located in frames, the diametrical plane of the housing and the plane of the connector. In conclusion, on the upper plane of the workpiece is applied to the contour of the body in terms. Then it is cut along this line with an allowance of 2-3 mm on the side.
Using a semicircular chisel, rasp and round gracioso file templates "planted" on the workpiece. This is done by successive approximations; the final operation of fitting templates are "paint". The working surface of the pattern is rubbed with colored pencil and pressed tightly to the surface of the blanks:
painted places cut down, and then the template once again pressed tightly to the piece, and again cut off the painted areas.