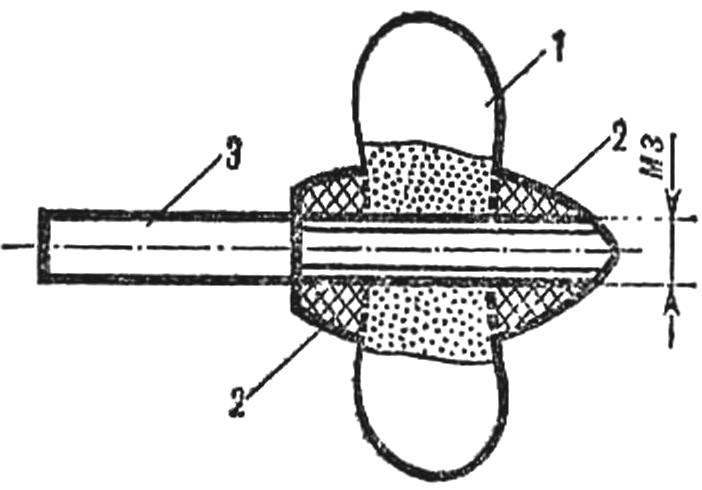 We offer proven our ship mug method: to make propellers with electric current from foam. Simple device allows you to quickly produce a series of identical screws, which in appearance is no different from bronze, but do not sink in water.
Material for screws is rigid foam stamps SS-1-200. Workpiece thickness 12-20mm can be any shape: round, square, etc. In the center of each drilled hole Ø
3 mm, for propeller shaft, it also serves as a guide in the manufacture of the screw.
Education of the blades occurs on the device, which we called "Vintorez" (Fig. 1). It consists of a body and three M3 screws is attached to the insulator. At last with the help of clamps and screws set M3 cutting element from nichrome wire Ø 0,8 mm.
For three-bladed propeller undertake three pieces of wire. The distance between them to screw with stepper for 1.5 to approximately 5 mm. For screws with a large step against this distance is reduced and, conversely, for screws with a smaller step ratio increases. You should pay special attention to the axle, which is clamped in the housing screw M4 X 35, were at the center of cutting elements. All three elements are connected in series by means of two jumpers. The voltage applied to them, about 5V.