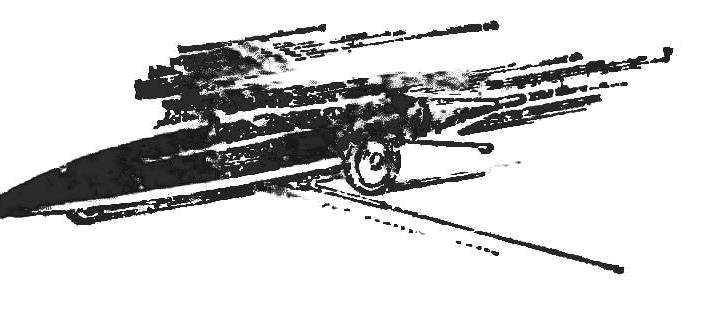 Continuously growing speed racing car, top athletes, designers are finding new technical solutions that increase the speed of avtopoligon, new methods of forcing-engines, better ways of suspension. And as a natural result — new records. So, last year, the master of sports of the USSR, Leningrad A. Medvedev at the all-Union competition "Match the fittest" broke the record of the Soviet Union — his polutorametrovy was racing the distance at a speed of 223,880 km/h!
Of course, such speed on the shoulder only the most experienced automodellista. In the Junior competition models of the same class run at speeds halved, so the possibilities of improving apparatuses of the boys a lot. And one of the ways — following the reference samples of self-similar technique. One of such designs is a racing Hungarian athlete D. Gabor.
It can be recommended to athletes involved in automodelismo at least three or four years. The model is not too complex to manufacture, and construction sites are very technological.
Front suspension — longitudinal swinging arm with a rubber damping element that ensures excellent performance at virtually all speeds and all surfaces of self-similar kartodromo. The trailing arm is made of aluminum alloy D16T or AK4-1T.