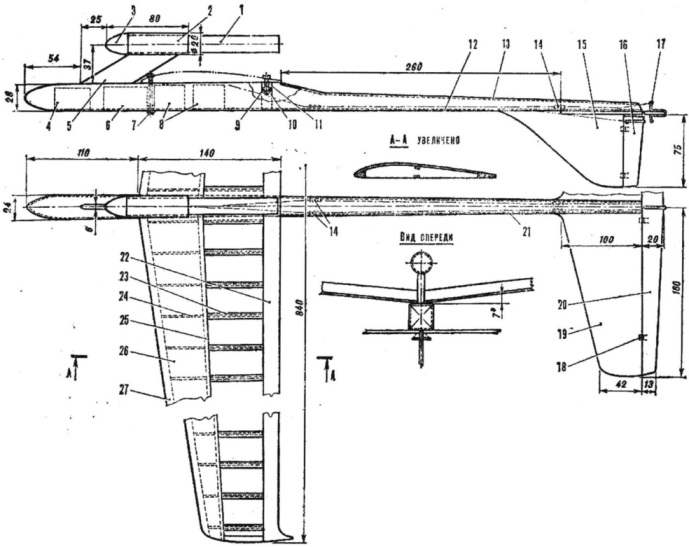 In 1980, the sub-Commission on the rocket modeling of the FAI decided to introduce a new class of raketoplana S8E with a maximum mass up to 300 g engine with a total impulse of 40 n*S. Model of this class, created by Bulgarian athletes participated in the competitions and showed good results. Having the necessary materials, it is easy to make in the flying circle. The engine of rocket with a total impulse of 40 n*works for 10 s. To control the model can be used in compact
radio equipment "Craft" or homemade equipment, the mass of which does not exceed 80 g. Usually its the power supply applies a battery capacity of 0.1 Ah and a voltage of 4.8 V.
The model design is traditional. The fuselage is of rectangular section made of balsa plates with thickness of 1.5 mm To the bottom with amelita or glue AK-20 are attached to the sidewall.
Them epoxy glued aluminum guide tubes for the control rods going from the servos to the control horns of the elevators and turn, and then glued the upper hull.
Ahead installed on the fuselage pylon balsa 6 mm thickness To it based on epoxy resin is attached to the container for the engine, laminated of fiberglass, impregnated with epoxy resin. In the front part it is provided with a cowl carved from balsa. To increase the strength of the forward fuselage and pylon are pasted over with thin fiberglass.