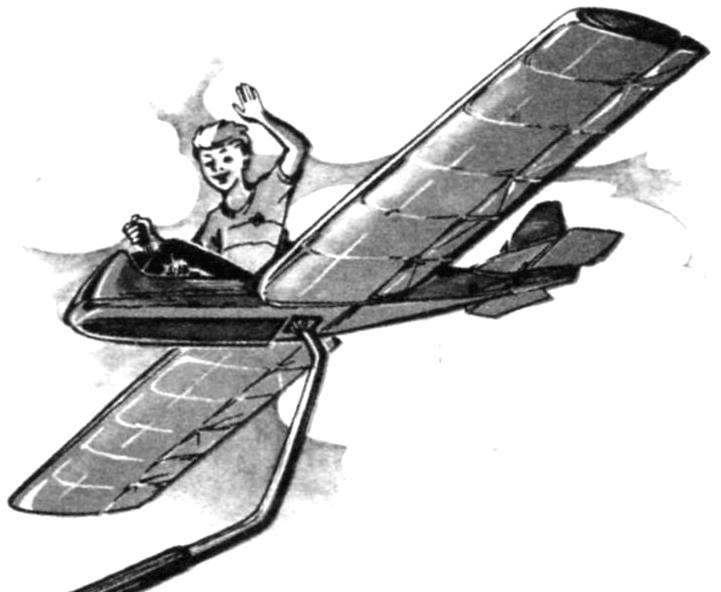 …Control knob soft is selected, the glider can easily lift the nose off the ground and shoots up. There, on a five-meter altitude, where popiskivaet on planes fresh wind, we are now going to demonstrate what they have learned to parry the roll of the glider, deviation from course, it's a "press" machine to the ground, find the optimal angle kupirovaniya, which is necessary for a proper take-off… everything in this free flight! Meanwhile, our glider… can't fly. Installed it on the building, resembling a well sweep. And is, in fact, the layout. To make such a trainer in the club or at the station of young technicians is not so difficult. It will allow children, dreaming of the sky, to practice a lot of exercises necessary for mastering flying skills.
If you fired up to work. Let's start with the "pie". For the Central rack find wooden or concrete pole with a length of about 4 -5 m. Note that the strut should go into the ground to a depth of about 1.5 – 2 m to Install it, we can more firmly entrenched in the pit of large gravel mixed with cement mortar. If the post is wooden, don't forget to coat the base of hot bitumen -this will prevent it from rotting.
The top of the strut is mounted hinge joint having two degrees of freedom – it will provide the rotation around the vertical axis and swing around the horizontal rocker. Joints it is desirable to make the ball – as shown on the drawings. But you can do without them, plastic or brass tube bushings completely replace them.
Rocker with a length of about 10 m is assembled from several steel pipes. The Central portion of the tube with an external diameter of about 100 mm, a wall thickness of 3 to 4 mm and a length of 3.5 m. you will also Need pipe 2.5 m long with an external diameter to be inserted into the first pipe to a depth of not less than 300 mm. Fixed pipe welding.