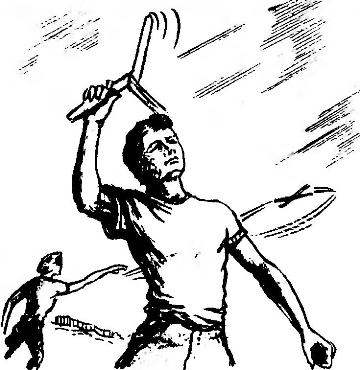 Today the state of technical creativity of pupils, I think we all know — it is deplorable. And even a talented teacher to inspire children is becoming increasingly difficult. One of the reasons the sharp deterioration of the material base of non-school institutions that lead to exclusion from group work sites that require long time to manufacture. It is possible to offer teachers some technical circles (primarily — aircraft modeling) to include in the plan of work of the first year of lessons build exotic aerodynamic projectile like a boomerang. Experience shows that it is quite affordable for newbies. Requires wood and simple tools: a plane, a knife, a rasp and sandpaper. Production time is two or three classes.
At the time, in the pages of "Modeller-designer" (No. 5 of 1993) described the construction of the classic boomerangs. However, for groups of more than l appropriate three – and four-bladed.
Like boomerangs in the championship of Russia for flying sports and the city of eagle has demonstrated Morozov, lecturer at regional station of young technicians. For many years he enjoys making boomerangs and has a large Arsenal of these kind of sports equipment.
Offering two simple designs, developed by I. Morozov. Hope they will be of interest not only to heads of circles, but fans of flying models.