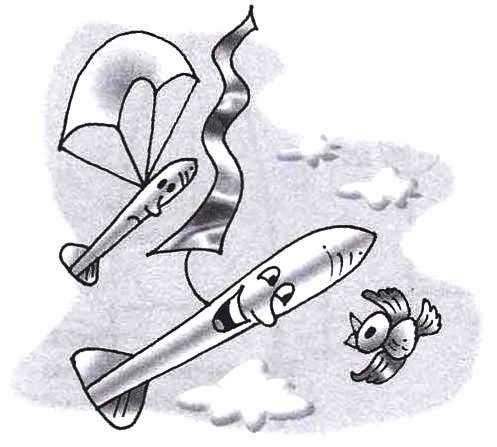 Model rockets category S6. Four class comprises a category S6 — model rockets for flight duration with the tape. In my opinion, this category is captivating spectators and athletes entertainment. After all, the entire flight takes place, that is, on sight. These models and the competition for them is the best suited for beginners "missile".
Championship class in categories S6 and boys, and adults one — Ѕ6А. Technical requirements for sports "projectile" as follows: the engine (pulse — no more than 2.5 NS) — one, length — not less than 500 mm, case diameter — 40 mm, the starting weight should not exceed 100 g, the maximum recorded time round — 3 minutes (180 points). The main detail (the original recovery system), which provides the greatest flight time, — the brake band, which for competition is not limited.
They are made of homogeneous, non-perforated material with a length to width ratio of at least 10:1. In flight, the tape must fully unfold. The athlete may, depending on weather conditions to use any tape.
I must admit that since the "birth" of that category (S6) all design, technological developments are carried out mainly with the brake band. Here the direction of these searches: select the size and material, thickness and styling methods. Starting conditions dictate the participants and selection of the brake band. So, for wind we need "hard" tape, to calm — "soft". The degree of "hardness" determines the thickness of the source material film. From the first it varies from 0.015 to 0.025 mm, the second is about 0.01 mm.