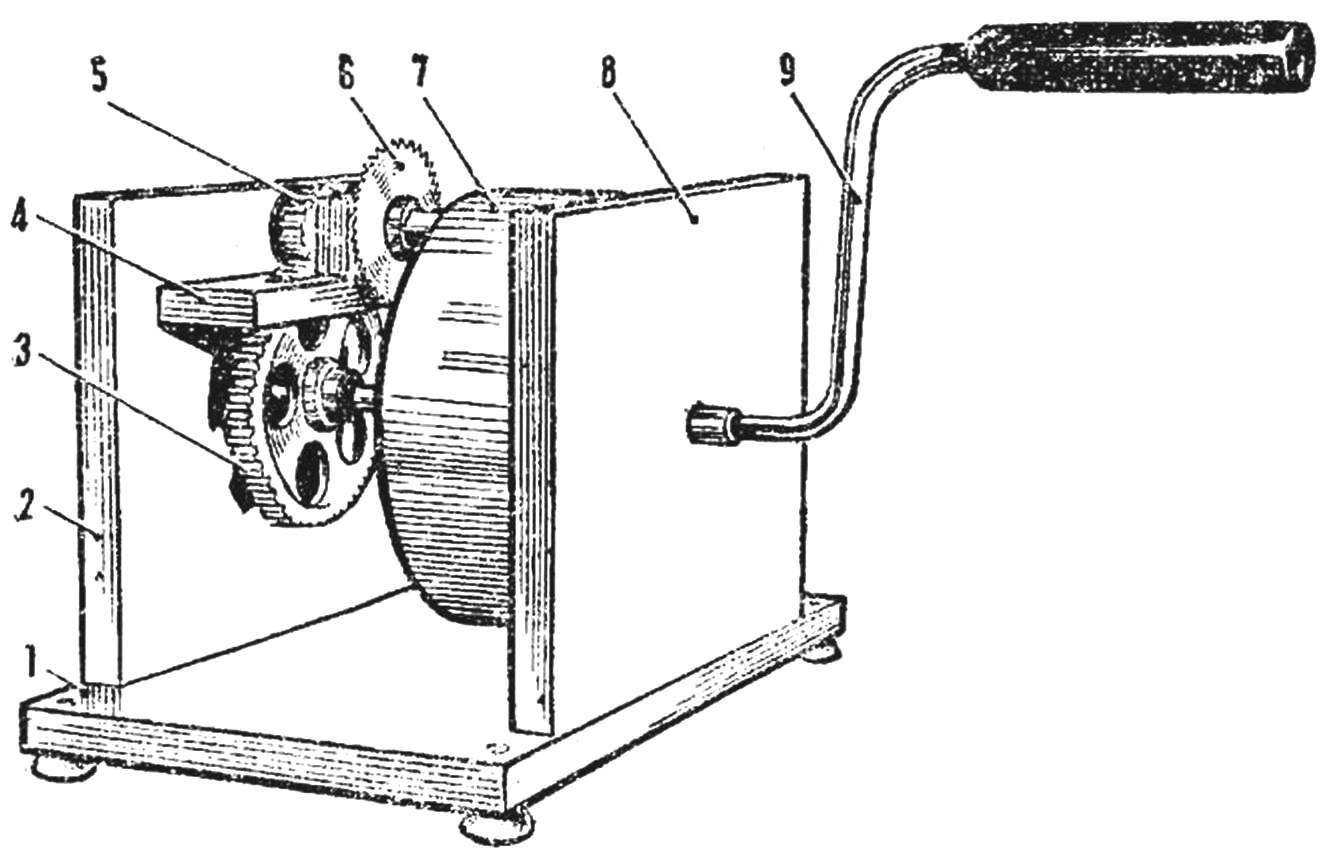 Models — the design tender. And Reiki it requires mainly fine. The cross section of 1X1 mm is probably the most common workpiece. Their production is significantly easier if you use our circular saw with manual transmission. A small sawmill "in the teeth" the thin rail, and the cleanliness of the cut is such that further processing is not required. This is achieved due to the very thin cutting tool, disc cutter with a thickness of 0.2 mm and a diameter of 32, 40 or 50 mm.
The kinematics of the mechanism is simple: the drive arm rotates the flywheel and sitting with him on the same axis as the gear (number of teeth 80, the outer diameter of 65.6 mm, module 0,8). Further, the rotation is transmitted to the ka the smaller the gear (number of teeth 19, outside diameter is 16.8, a module of 0.8) and planted on the same axis of the disc cutter.
Both axle — bearings, planted: leading in the upright of the machine, driven — rack and aluminum bracket. At the end of the shaft includes a threaded hole M6, where it is injected a drive handle.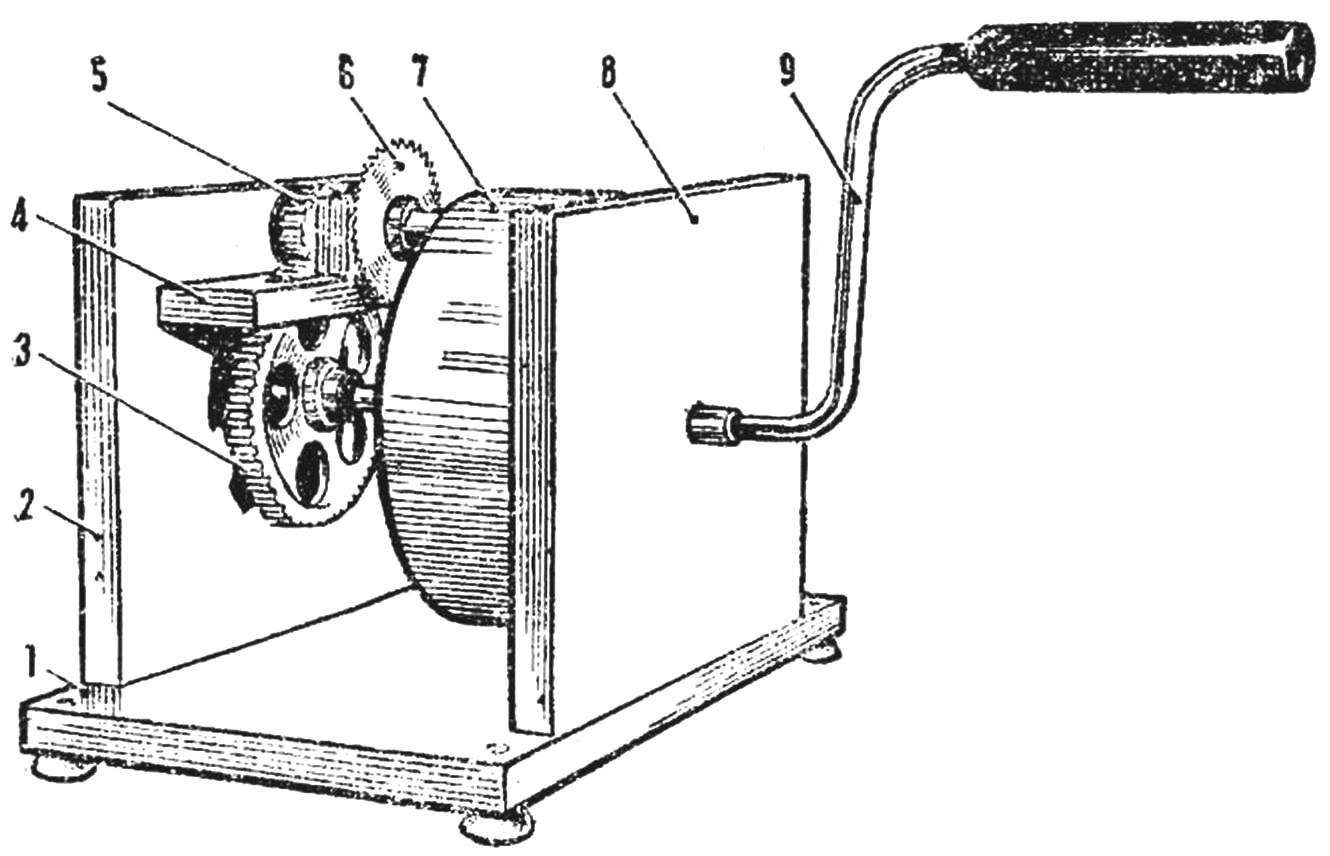 Fig. 1. Circular saw with manual transmission:
1 — the base (aluminum 10X120X230 mm), 2, 8 stand (made of anodized aluminum 10X105X140 mm), S — gear, 4 — bracket (aluminum), 5 — gear, 6 — disk mill, 7 — flywheel (steel) 9 — drive arm.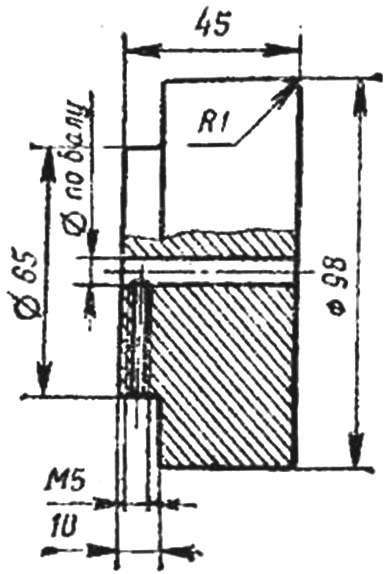 Fig. 2. Flywheel.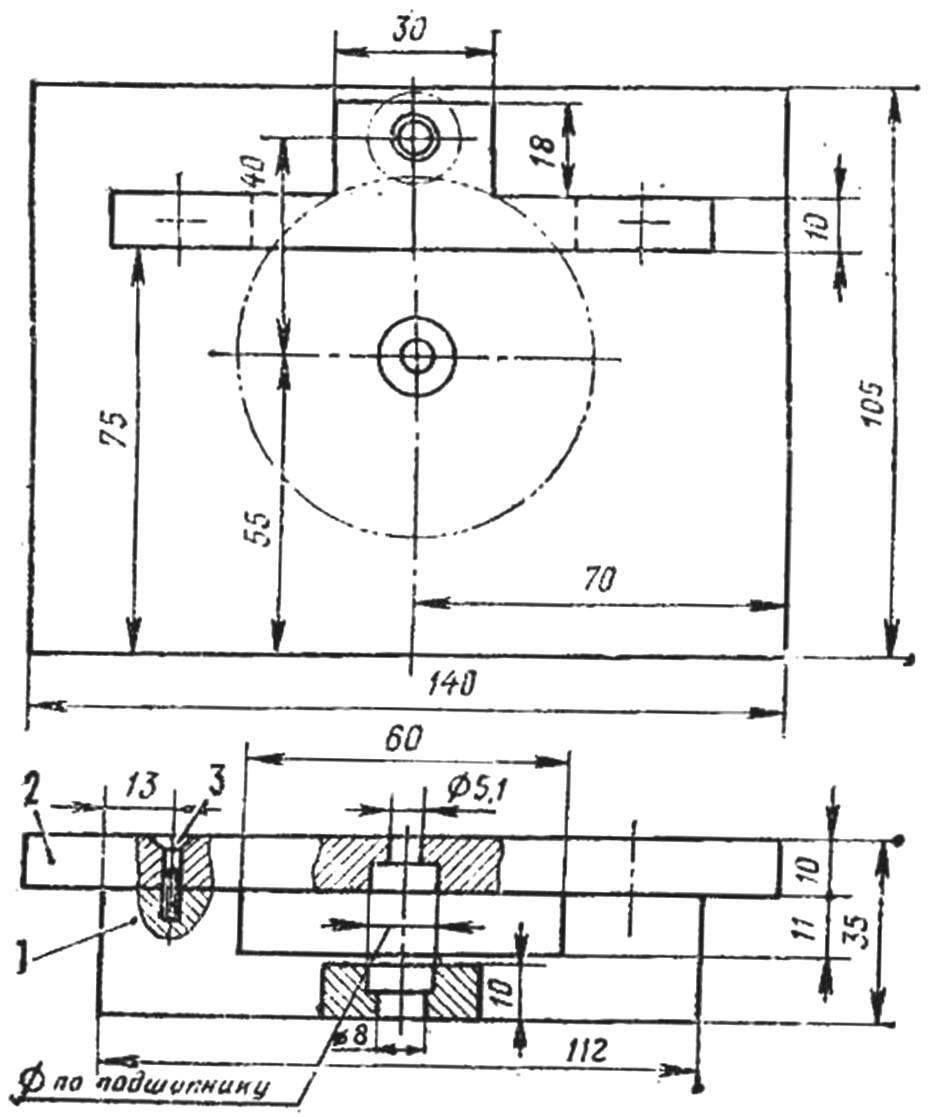 Fig. 3. Strut Assembly:
1 — bracket (aluminum), 2 — stand (made of anodized aluminum 10Х105Х140 mm), 3 — the bolt is M5.
Upright carved from duralumin sheet thickness of 10 mm. Their dimensions — 105X140 mm. the base of the machine — plate of the same thickness with the size 120X230 mm.
The flywheel bores of steel, its outer diameter 98 mm and thickness of 45 mm. It is designed to ensure uniformity of rotation of the drive shaft.
Operation of the machine in our group have shown that it is very easy to use, dependable and, most importantly, safe, since in critical situations it can be stopped almost instantly.
V. PLEIN, head of airmodelling mug, Pavlovsk
Recommend to read
FLYING SAIL
This model can be built in 4-6 hours. It flies well indoors and outdoors. It is designed and built model airplanes Khabarovsk regional station of young technicians. The fuselage is...
REZINOMOTORNAYA "BABY"
This schematic model airplane designed by M. S. Stepchenko, one of the veterans of the Soviet aircraft modeling. Its main advantage — ease of fabrication. Required for construction...