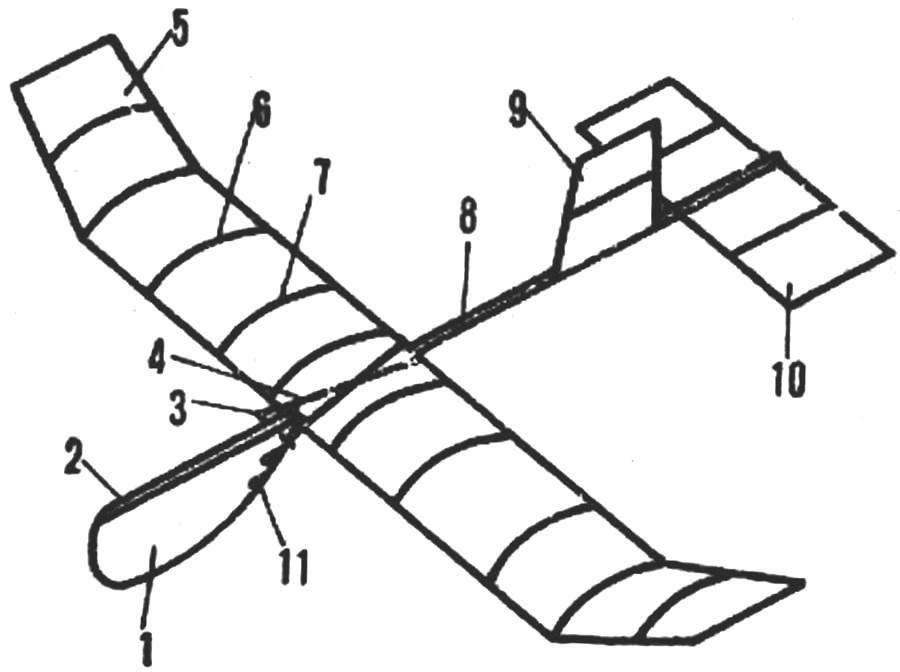 Before starting work, carefully examine the drawing and description. Then prepare the tools: small plane, a sharpened knife, pliers or pliers and a jig saw with saws. Materials you will need: a pine rail, a small sheet of tinplate, paper, spool of white thread No. 10, plywood thickness of 1 mm and 3 mm, or micuenta tissue paper or polyester and nitrogly (it may be enamel, "AGO", supercement, etc.).
For the leading edge of the wing, take pine slats 4X4 mm for the rear 2,5X7 mm and the ribs 2,5X3 mm.
Warming over the flame, give the ribs the shape of the profile. To get the angle of the V, glue, and then tape the thread two strips of sheet metal with a width of 7 mm and 4 mm to the ends of abutting edges, as shown in the figure. In places of gluing the ribs to the edges with a knife cut the grooves. To rib better behaved during gluing, they should be pressed to the edges believeme clothespins.
To prepare the stabilizer Reiki 3×2 mm.; Its design is clear from the figure.