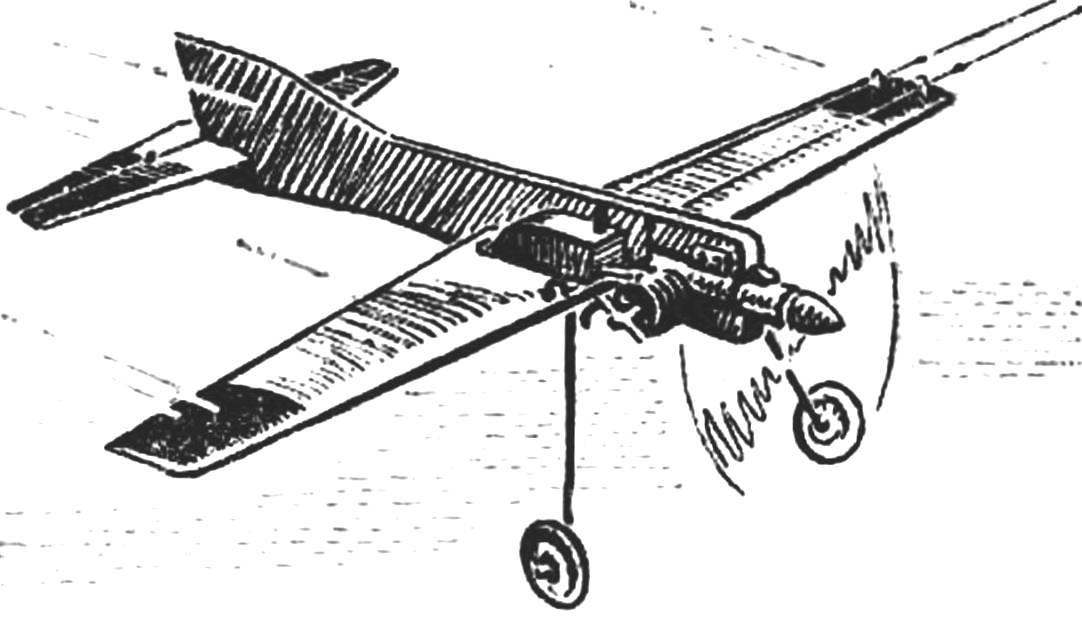 Said to be good the model airplane itself teaches us to govern ourselves. Especially valuable is her property for beginners korovikov. However, apart from flight, training models required: maximum ease of fabrication and strength. We offer our readers two successful design for the initial "school" for learning the basics of flight complex. These models-coaches can help young athletes become faster first-class masters.
Although superficially this model is similar to the data collected from the sets of parcels, it flies much better. "The secret" in a much lighter wing. It is made of wood having almost twice lower specific gravity than plywood wing of the parcels, and, in addition, it carved out large Windows of relief, practically does not reduce strength. Therefore, the model is held steadily in the air, perfectly obeying the helm, even at medium engine speeds. Moreover, the vitality of the device above any praises. The prototype, built by guys dozens of times head over heels rolled down the dirt track stadium after unsuccessful encounters with the earth and each time was ready to rise again into the air.
An important advantage of the proposed model and that it is made of boards… from an ordinary packing box. For the wing it is necessary to select a plate thickness of 5-7 mm, the size of 100X500 mm (and more narrow) for the fuselage the same, only a width of 70 mm. and not to Tinker with the plane, try to find wood for the stabilizer plate having a thickness of about 3 mm., Its size is 50X250 mm.