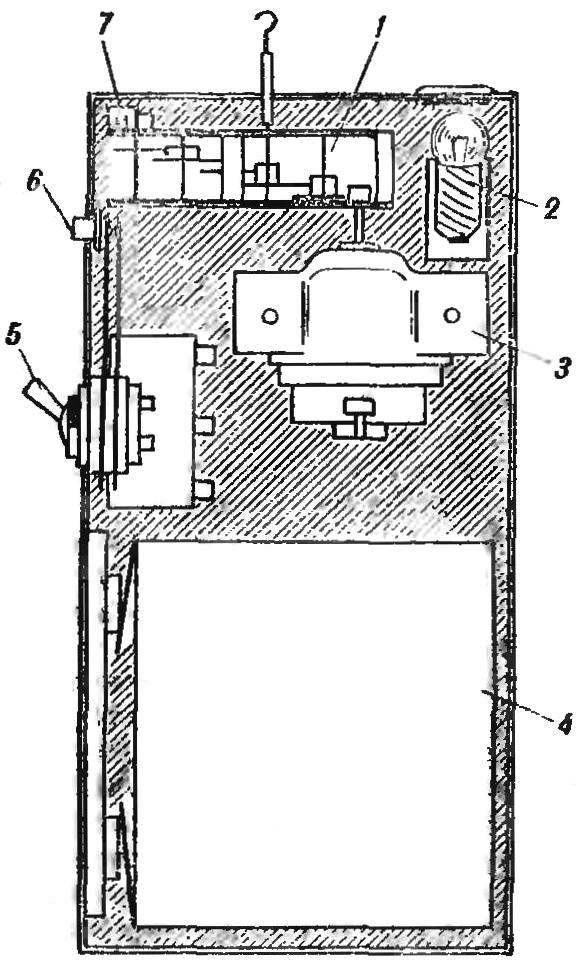 In the circle model airplanes syut city of INTA has designed an electric starter for starting resinator indoor models. He performed well at the national competition at the indoor model airplanes among schoolchildren of the Komi ASSR.
One of the design options for rubber motor, consisting of one or two strands (1-2 mm2), can be done on the basis of the Microdrive DP-10.
The unit's reducer with a gear ratio of 1:10 from a gear mechanism of a water meter or other device of the same type. Transmission from the shaft of the hook on the shaft of the breaker must also have a ratio of 1:10. The breaker facilitates the counting of turns of the twist — it is carried out "dozens" flashes of light L1.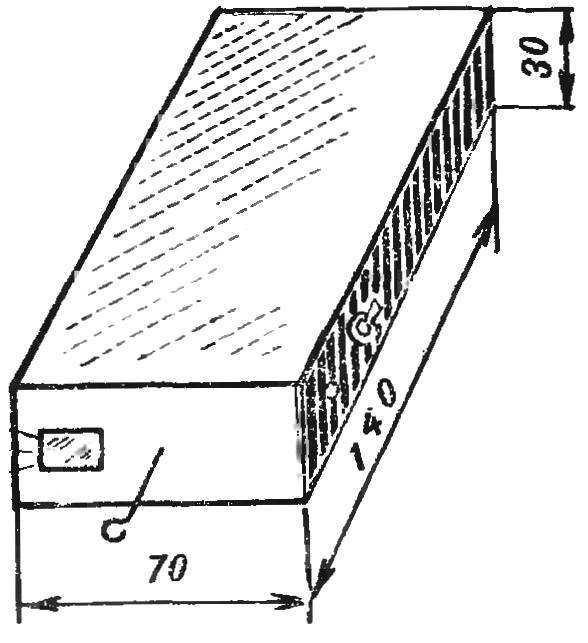 Design starter:
1 — reducer, 2 — signal light 3 — motor DP-10, 4 — battery, 5 — reverse switch, 6 — button start, 7 — breaker contacts.
Toggle switch B1 serves to change the direction of rotation of the motor shaft. Button — from the call or, as K1, a contact pair of any telephone relays. Motor M1 is DP-10. Power — battery 3336L.
The entire device is mounted in a plywood or plastic housing dimensions 140X70X35.
V. BARINOV, syt, INTA
Recommend to read
PLATE WITH TEETH
In the journal "modelist-Konstruktor" was published an article by a teacher from the city of Severodvinsk Vladimir Arkhipov, dedicated to the manufacture of plastic fine-grained...
MODEL-A COPY OF CHAMPION
(The end. Start at # 5 and 11 '02)   The carrier rocket "Soyuz-2" spacecraft "Soyuz TM-12". The article "Soyuz" space survivor" ("modelist-Konstruktor" No. 5'02) it was told about...