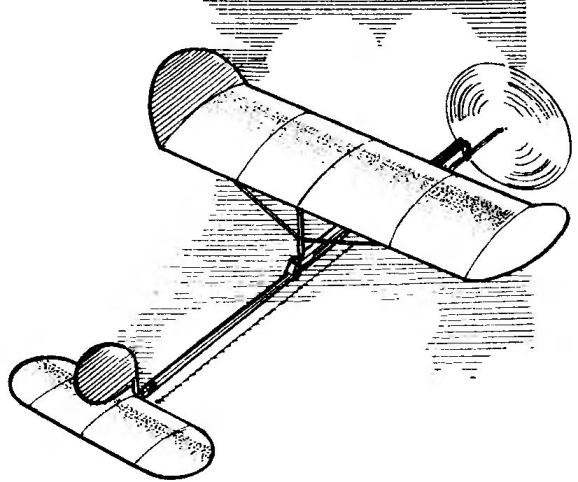 For the last four years on the initiative of the heads of model aircraft clubs in the town of Zheleznodorozhny in the Moscow region competitions school students in the new class of resinator indoors. If you compare these models with others, participating in competitions, for example, a glider and a helicopter "Fly", the proposed resonatory more complex. Therefore, it can be recommended for the manufacture of the guys visiting the club for the second year.
Such competitions are usually conducted in a typical school gym. Based on these conditions was developed and corresponding technical requirements for the models: wingspan no greater than 325 mm, weight without rubber motor not less than 10 g.
The past years have shown that most are constructed of resonators of two types: "light" — with rigid wings and tail surfaces, made primarily from foam, and a "heavy" room with bead bearing surfaces with a soft lining of thin Mylar film or paper. Although the foam is less laborious to manufacture and reliable in operation, but in the weight characteristics, they lose the rubber motor-Kam stacked design.
The proposed drawings and the description of "heavy" room rezinomotornaya model aircraft by the chief of the aeromodelling circle syut, the Railway Moscow region Yuri MOISEYEV, who was a multiple winner of the regional competition.
The wing model consists of rectangular center section and two "ears". Its front and rear edges of the cross-section of 1,5×1,5 mm made of grained pine (spruce or basswood). Cross set was formed by five ribs of the same material and cross section, established with an equal pitch. Blanks for ribs with a length of 125 mm pre-soaked in hot water, then secure them with a rubber thread to the mandrel, having the form of a defined profile, and fully dried. The mandrel ribs for the wing and stabilizer are the same. From blanks cut ribs for the wing and stabilizer, which is calibrated in length.