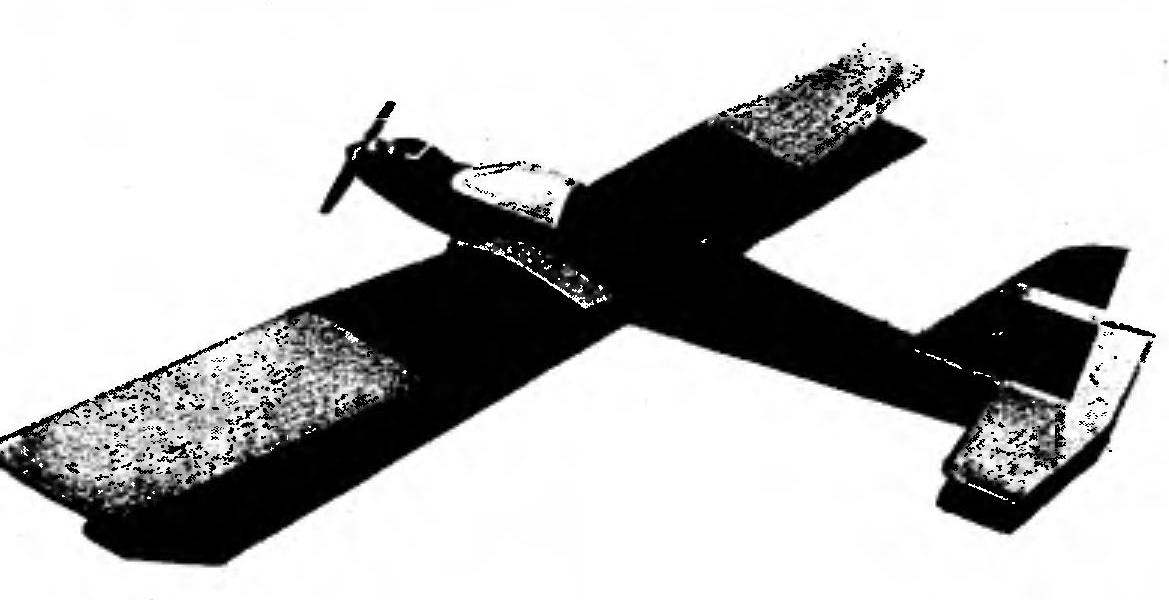 We present radiomodulators development created by Czech athletes. Although the model presented by the authors as "glider", its capabilities are much greater. Suffice it to say that a powerful engine with a working volume of 3,5 cm3 this machine can even be used as Aeromexico to slip the glider with a wingspan of up to 2.8 m! Very good "Stratos" — is the name of this interesting aircraft — and behaves as a purely motor technology, and as a glider.The basis of the fuselage are two symmetrical side cut from balsa wood with a thickness of 4 mm. In the front they are strengthened by adding plywood with thickness of 1 mm. from inside the Engine compartment on the sides further inlaid balsa thickness of 10 mm, which allows you to securely attach engine mount out of plywood with a thickness of 9 mm. the Tail part of the fuselage assembled using balsa stringers and racks section 3×6 mm.
When you build the fuselage first, put the frames and connecting the nasal part. The frames themselves are made of plywood: the front (under engine) with a thickness of 9 mm, next — plywood with a thickness of 3 mm and two underwing — 6 mm. Under the engine mount is glued to the tin plate, repeating the contour of the plywood detail and designed for soldering the nuts under the motor attachment screws. The entire power part of the fuselage going in epoxy resin. Waiting for the resin curing, check the accuracy of the Assembly and then put the bulkhead and the wall of the compartment to accommodate the fuel tank. Epoxy mounted the tank, which is laterally reinforced by a balsa plates 3 mm thick. the Tail part of the sidewall connects the balsa boss section 15×20 mm. Then put the cross strut of the fuselage from reek with section 3×6 mm, after which the pasted node to the reception of the rear wheels.
The fuselage bottom behind the wing is sheathed with balsa 3 mm thick, with transverse layers of wood. Before trimmed from the bottom "sandwich" of three-millimeter balsa and plywood with thickness of 1-1,2 mm (outside). The front end of matousek closes the balsa thickness of 10 mm. is Fitted and then pasted plate-the base of the main landing gear is made of plywood thickness of 3 mm (in the case of fastening the chassis with the screws you need to take a plywood thickness of 6 mm). The upper tail of the fuselage fixed bed of the stabilizer out of plywood with a thickness of 3 mm with taped nylon nuts M4. Right in front of him set the balsa keel plate thickness of 4-5 mm, which is laterally reinforced by the balsa of the same bars, facing in profile to the last prosperous fairing.