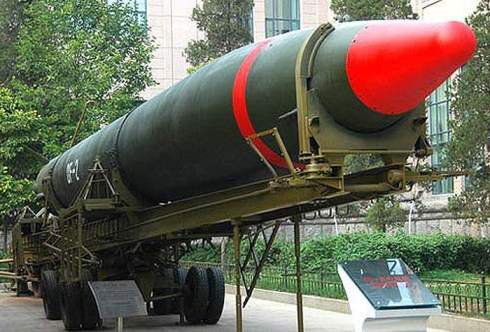 In 1955, the Soviet Union took arms ballistic missile R-5, launch weight and range which were respectively 29
tons and 1200 km Mass warhead of about one ton. At start-up to a distance of 600 – 800 km, could be applied to two or four combat suspension with the use of a combined system, control the radio and Autonomous. Compared with previous products, able to significantly improve the accuracy of firing the missiles.
(The end. Start at # 6 – 2012)
Rocket R-5M became the world's first carrier of a nuclear warhead. Her starting weight was 28.6 tons, has a range of 1200 km Developed it in 1954 – 1956, OKB-1 headed by S. P. Korolev on the basis of rocket R-5. The complex of the R-5M was set LPRE RD-103 running on ethanol and liquid oxygen, developed under the leadership of V. P. Glushko.
Rocket R-5M was adopted in 1956 under the symbol 8К51.